Study Notes on the Holy Scriptures (64 vols.)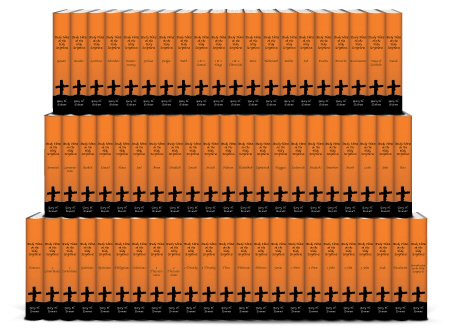 Study Notes on the Holy Scriptures (64 vols.)
•
Runs on Windows, Mac and mobile.
Get the Big (and Microscopic) Pictures
Gary H. Everett's 2011 edition of Study Notes on the Holy Scriptures is a culmination of thirty years of personal Bible study. These study notes are now available for you through Logos Bible Software.
Study Notes on the Holy Scriptures (64 vols.) is unique in that these notes are designed to guide its readers into the biblical text using proposed outlines that follow the redemptive themes of the Holy Bible, so that a person knows what a passage of Scripture is saying in respect to the overall theme or message of that particular book. These thematic schemes serve as a key that unlocks the meaning of the Scriptures in a magnificent way.
This 64-volume resource especially aids the preacher and teacher by helping navigate through a sermon/teaching series so that there is a cohesive unity throughout the series of messages on a book of the Bible. The themes and structures of the books of the Bible can be found in the introductions to each book, and under the subtitles "Thematic Scheme" and "Literary Structure."
With the Logos Bible Software edition, all Scripture passages in Study Notes on the Holy Scriptures (64 vols.) are tagged and appear on mouse-over. The entire collection integrates seamlessly with every other book in your library, making these resources more powerful and easier to access than ever before for scholarly work or personal Bible study. With the advanced search features of Logos Bible Software, you can perform powerful searches by topic or Scripture reference—finding, for example, every mention of "miracle," or "Matthew."
Key Features
Study notes for each book of the Bible
Outlines highlight key themes
Introductions to each book give multiple contexts to the passages of study
Product Details
Title: Study Notes on the Holy Scriptures
Author: Gary H. Everett
Publisher: Logos Bible Software
Volumes: 64
Pages: 5,755
About Gary H. Everett
Rev. Gary H. Everett received his Master of Divinity degree from Southwestern Baptist Theological Seminary in 1992. He is currently pursuing his Doctor of Ministry degree at this same seminary. He has taught in Bible colleges for ten years and served as a pastor for five years. For thirteen years he has been serving as a missionary in Kampala, Uganda under Dr. Robert B. Nichols of Calvary Cathedral International in Fort Worth, Texas. Gary was married to his wife Menchu in 1996. They have three children, who were all born and raised in Uganda.
More details about these resources
Show More