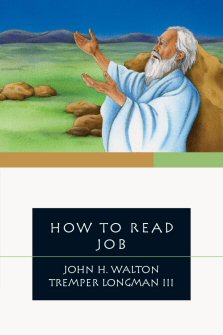 How to Read Job
•
IVP 2015
Runs on Windows, Mac and mobile.
Your Custom Discount
Reg. Price $17.99
Sale Price $12.99
Your Price $12.99
You Save $5.00 27%
Your Price
What's Pre-Pub?
$12.99
Reg.: $17.99
Print: $20.00
Overview
We often turn to the book of Job when we encounter suffering. We look for an explanation for the questions "Why me?" or "Why her?" But what if it turns out that although Job does suffer, the book is not really about his suffering?
If ever a book needed a "How to Read" instruction manual, it is the book of Job. And when two respected Old Testament scholars team up—both of whom have written commentaries on Job—we have a matchless guide to reading and appreciating the book. From their analysis of its place in the wisdom literature of the Bible and the ancient Near East to their discussions of its literary features and relationship to history, Walton and Longman give us the best of their expertise. They explore the theology of Job, placing it within Israelite religion and Old Testament theology. And they coach us in how to read Job as Christians. When it turns out the book is not what we thought it was, our reading is richly layered and more satisfying.
Whether you are preparing for preaching, teaching, leading a Bible study, studying for a class or for personal enrichment, How to Read Job is your starting point.
In the Logos edition, this volume is enhanced by amazing functionality. Important terms link to dictionaries, encyclopedias, and a wealth of other resources in your digital library. Perform powerful searches to find exactly what you're looking for. Take the discussion with you using tablet and mobile apps. With Logos Bible Software, the most efficient and comprehensive research tools are in one place, so you get the most out of your study.
Key Features
Learn why the book of Job is about God, not Job
Examines the justice and righteousness of God in the face of suffering
Contrasts the difference between true integrity vs the benefits of faithfulness
Contents
Part One: Reading Job as Literature
What Is the Book of Job About?
What Is the Rhetorical Strategy of the Book of Job?
Job in the Context of the Ancient Near East
Is Job a Real Person?
Part Two: Getting to Know the Characters of the Book of Job
What Do We Learn About God from the Book of Job?
Who Is "Satan" in Job?
What Is the Role of Job in the Book of Job?
How to Assess Job's Human Advisers
Who Is Job's Advocate?
Behemoth and Leviathan, the Most Powerful Creatures Imaginable
Part Three: The Theological Message of the Book of Job
The Retribution Principle and Theodicy in Job
The Retribution Principle in Wisdom Literature
Does Job Believe in the Afterlife?
Learning About the Cosmos from the Book of Job
The Theology of Suffering in the Book of Job
Job's View of God
Part Four: Reading Job as a Christian
Job and Jesus
The Message of the Book of Job for Today
Does the Book of Job Provide Comfort?
Applying the Book of Job
Praise for the Print Edition
Walton and Longman, two seasoned commentators on Job, argue that readers should redirect their efforts from seeking in its pages reasons for human suffering to instead recognizing the lesson to trust in a sovereign God within the incongruities of life. The pious may not understand their painful lot, but assurance and rest come in accepting the wisdom of the Almighty. Thoughtful and accessible, this is a welcome addition to the How To Read series.
—M. Daniel Carroll R., Distinguished Professor of Old Testament, Denver Seminary
The book of Job is a weighty read at just about every level, from its language to its theology. Walton and Longman's How to Read Job is a helpful training manual for the task. Their treatment of the discrete interpretive issues is clear and concise. Taken as a whole, their individual discussions guide the reader of Job from an understanding of the book in its ancient context to its Christian application as Scripture. Walton and Longman take unequivocal interpretive stances on various of the book's conundrums, and they provide questions to prompt the reader to further reflection. The best feature of this short primer on the book of Job is that it draws one to read the book of Job itself rather than substituting lengthy commentary for the biblical text. Students, pastors and laity can all benefit from this delightfully accessible invitation to the book of Job.
—John A. Cook, Asbury Theological Seminary
This readable volume questions many traditional answers to Job. It also provides important perspectives on the book's interpretation. It is an excellent starting point for the reader of this great literary masterpiece of the Bible.
—Richard S. Hess, Earl S. Kalland Professor of Old Testament and Semitic Languages
This book will stimulate readers willing to re-evaluate their assumptions about how to read Job.
—Peter Krol, Bible Study Magazine, July/August 2016
About the Authors
John H. Walton (PhD, Hebrew Union College) is professor of Old Testament at Wheaton College and Graduate School. Previously he was professor of Old Testament at Moody Bible Institute in Chicago for twenty years.
Some of Walton's books include The Lost World of Adam and Eve, The Lost World of Scripture, The Lost World of Genesis One, Ancient Near Eastern Thought and the Old Testament, The Essential Bible Companion, The NIV Application Commentary: Genesis, and The IVP Bible Background Commentary: Old Testament (with Victor Matthews and Mark Chavalas).
Walton's ministry experience includes church classes for all age groups, high school Bible studies, and adult Sunday school classes, as well as serving as a teacher for "The Bible in 90 Days." John and his wife, Kim, live in Wheaton, Illinois, and have three adult children.
Tremper Longman III (PhD, Yale University) is Distinguished Scholar of Biblical Studies at Westmont College in Santa Barbara, California. He is also visiting professor of Old Testament at Seattle School of Theology and Psychology and adjunct of Old Testament at Fuller Theological Seminary. He lectures regularly at Regent College in Vancouver and the Canadian Theological Seminary in Calgary.
Longman is the author or coauthor of over twenty books, including How to Read Genesis, How to Read the Psalms, How to Read Proverbs, Literary Approaches to Biblical Interpretation, Old Testament Essentials, and coeditor of A Complete Literary Guide to the Bible. He and Dan Allender have coauthored Bold Love, Cry of the Soul, Intimate Allies, The Intimate Mystery, and the Intimate Marriage Bible studies.
Sample Pages from the Print Edition