Studies in Christian Doctrine and Scripture (3 vols.)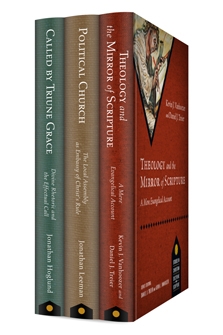 Studies in Christian Doctrine and Scripture (3 vols.)
•
IVP 2015–2016
Runs on Windows, Mac and mobile.
Your Custom Discount
Reg. Price $80.99
Sale Price $58.99
Your Price $58.99
You Save $22.00 27%
Your Price
What's Pre-Pub?
$58.99
Overview
The Studies in Christian Doctrine Collection presents three important monographs on Christian theology and doctrine. Each volume putting forward a creative new look at their respective topics, this collection offers readers a new way to think about the Trinity, the local congregation and spiritual calling. All three volumes find their theological foundation in Scripture and Christology for making their cases on behalf of the salvation experience, ecclesiology, and the nature of contemporary evangelicalism.
In the Logos edition, these volumes are enhanced by amazing functionality. Important terms link to dictionaries, encyclopedias, and a wealth of other resources in your digital library. Perform powerful searches to find exactly what you're looking for. Take the discussion with you using tablet and mobile apps. With Logos Bible Software, the most efficient and comprehensive research tools are in one place, so you get the most out of your study.
Key Features
Three Christologically grounded studies of issues central to the contemporary church
Frames the local church in a fresh, exciting manner
Astutely examines the challenge of contemporary evangelicalism and its ongoing significance
Product Details
Title: Studies in Christian Doctrine and Scripture
Publisher: IVP
Volumes: 3
Pages: 975
Resource Type: Monographs
Topic: Theology
Individual Titles
Christians confess that God calls people to salvation. Reformed Christians, in particular, believe this is an effectual calling, meaning that God sovereignly brings about salvation apart from human works. But in what sense does God actually 'call' us? Does a doctrine of effectual calling turn people into machines that lack any personal agency? In his lucidly written and carefully researched study, Jonathan Hoglund provides a constructive treatment of effectual calling that respects both the Reformed tradition and non-Reformed critiques, while subjecting the doctrine to a fresh reading of Scripture with special attention given to the letters of Paul. Hoglund interprets divine calling to salvation as an act of triune rhetoric, in which Father, Son, and Holy Spirit work in a personal way to communicate new life. By bringing together theological exegesis, rhetorical theory, dogmatic reflection, and historical inquiry, Called by Triune Grace proves to be a feast—not only for the mind, but also for the spirit.
Here are the new ground rules for how to think well about God's effectual call. The deep structure of conversion may remain a holy mystery, but this book rescues it from being a theological muddle or the source of needless conflict. Hoglund's approach to the triune God's rhetoric of salvation is exegetically clarifying, ecumenically helpful, and evangelistically useful. This is a deeply persuasive book about the deepest kind of persuasion.
—Fred Sanders, Torrey Honors Institute, Biola University
Jonathan Hoglund (PhD, Wheaton College) serves with Training Leaders International to strengthen theological education among evangelical churches in Southeast Asia. He previously served as lecturer and academic dean in Ukraine with SEND International. He lives in Southeast Asia with his wife and three children.
The church is political. Theologians have been debating this claim for years. Liberationists, Anabaptists, Augustinians, neo-Calvinists, Radical Orthodox and others continue to discuss the matter. What do we mean by politics and the political? What are the limits of the church's political reach? What is the nature of the church as an institution? How do we establish these claims theologically? Jonathan Leeman sets out to address these questions in this significant work. Drawing on covenant theology and the "new institutionalism" in political science, Leeman critiques political liberalism and explores how the biblical canon informs an account of the local church as an embassy of Christ's kingdom. Political Church heralds a new era in political theology.
Leeman's well-argued book is a welcome reminder that the full reality of the church is to be found in the local congregation. I cannot imagine that his book will not become a standard work in this area of theological inquiry.
—Stanley Hauerwas, Gilbert T. Rowe Professor Emeritus of Divinity and Law, Duke University
Jonathan Leeman attends Capitol Hill Baptist Church in Washington DC. He has his MDiv from The Southern Baptist Theological Seminary and is presently working on a Ph.D. at the University of Wales. He serves as director of communications for 9Marks and is editor of its eJournal. He is the author of The Church and the Surprising Offense of God's Love, released in 2010. Jonathan lives with his wife and three children in the Washington DC area.
Evangelicalism has long been a hotly disputed label, and what counts as evangelical theology is often anyone's guess. Is evangelicalism a static bounded set defined by clear doctrinal limits, or is it a dynamic centered set without a discernible circumference? In this inaugural volume in the Studies in Christian Doctrine and Scripture, Kevin Vanhoozer and Daniel Treier present evangelical theology as an "anchored" set, rooted in the Trinity. In response to increasing evangelical fragmentation, Theology and the Mirror of Scripture offers a clarion call to reconceive evangelical theology theologically by reflecting on the God of the gospel as mirrored in Scripture. Such "mere" evangelical theology will be an exercise in Christian wisdom for the purpose of building up the fellowship of saints.
This is not just another book about evangelicalism—its fissures, successes, designs and contusions. Rather, it is a proposal for doing mere evangelical theology—mere as genuine, not minimal—one that draws on the wisdom of the entire Christian tradition. Well-written and clearly argued, this book offers a compelling way forward for the evangelical church today.
—Timothy George, founding dean, Beeson Divinity School of Samford University, general editor, Reformation Commentary on Scripture
Kevin J. Vanhoozer (PhD, Cambridge University) is research professor of systematic theology at Trinity Evangelical Divinity School in Deerfield, Illinois. He is the author of several works, including Faith Speaking Understanding: Performing the Drama of Doctrine, First Theology: God, Scripture, and Hermeneutics, The Drama of Doctrine: A Canonical-Linguistic Approach to Christian Theology, and Remythologizing Theology: Divine Action, Passion and Authorship. He is the editor of the Cambridge Companion to Postmodern Theology and the Dictionary for Theological Interpretation of the Bible.
Daniel J. Treier (PhD, Trinity Evangelical Divinity School) is Gunther H. Knoedler Chair of Theology at Wheaton College in Wheaton, Illinois. He previously served as Blanchard Professor of Theology at Wheaton, and he is the coeditor or author of several books, including Theology and the Mirror of Scripture, Introducing Theological Interpretation of Scripture , and Virtue and the Voice of God.