Mobile Ed: OT285 Introducing Torah (8 hour course)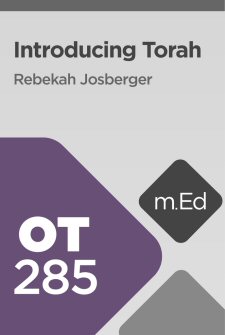 Mobile Ed: OT285 Introducing Torah (8 hour course)
•
Runs on Windows, Mac and mobile.
Overview
In Introducing Torah Dr. Rebekah Josberger provides important insights into the first five books of the Old Testament. The course begins with a look at the historical context of the Torah and why it inspired love in the hearts of the psalmists. Designed to teach students how to read and appreciate this section of Scripture, the course will walk you through multiple passages of the Torah, with emphasis on the Sabbath, the Ten Commandments, and two difficult marriage/divorce laws in Deuteronomy. You will come away with a better understanding and appreciation of this important portion of the Bible.
Learning Objectives
Upon successful completion you should be able to:
Explain what the term "Torah" refers to
Recognize the loving, merciful God of the New Testament in the pages of the Old Testament
Identify principles behind Old Testament laws that make them applicable in today's world
Explain how the law against remarriage in Deut 24:1–4 is meant to protect women
Improve your walk as a Christian as you apply what you learn to your relationship with God
Course Outline
Introduction
Introducing the Speaker and Course
Unit 1: Introduction to Torah
What Is Torah?
Goals for the Course
Methodologies for Reading Torah
Unit 2: Torah Is Grace
Loving the Torah: Part 1
Loving the Torah: Part 2
The "Prayer to Any God"
Deuteronomy and Evangelistic Torah
Unit 3: Torah in Exodus
Introduction to Torah in Exodus
How to Read Torah
God Came to Live with His People
Unit 4: Torah in Deuteronomy
Introduction to Torah in Deuteronomy
Covenant Framework of Deuteronomy
Sermonic Framework of Deuteronomy
Torah a Reflection of God's Character
Sabbath Rest and God's Character
Sabbath Rest in Deuteronomy 5
Introduction to the Ten Commandments
First and Second Commandments
Third Commandment
Fourth Commandment
Fifth Commandment
Sixth through Ninth Commandments
Tenth Commandment
Unit 5: How to Look at Torah
Introduction
Genesis 12: Where We Fit in the Torah
Instructional Nature of Torah
Why We Are Wrong to Think the Torah is Bad
Introduction to Deuteronomy 21:10–14
Deuteronomy 21:10–14: Characters
Deuteronomy 21:10–14: Issues
Deuteronomy 21:10–14: Structure: Part 1
Deuteronomy 21:10–14: Structure: Part 2
Deuteronomy 21:10–14: Structure: Part 3
Deuteronomy 21:10–14: Outward Signs of Grief, Change
Deuteronomy 21:10–14: Freedom and Social Status
Dishonor in Deuteronomy 21:10–14
Deuteronomy 21:10–14: Application
Principle-ization of Torah
Nature of Old Testament Law
Deuteronomy 21:10–14: Summary
Modern, Deuteronomistic, and Ancient Near Eastern Law
Code of Righteousness
Bridging Cultural Gaps
Paul's Use of the Principle of the Law
Slavery and Biblical Principles
Hearing the Message of Torah
Ezra 9–10: Putting Yahweh First
Unit 6: Levitical Law and Torah
Leviticus 10: Danger of Offending a Holy God
Timeless and Contextual Dichotomy of the Law
Context of Brokenness for Torah
Types and Integration of Biblical Law
What Uncleanness Shows about God
Leviticus 21: Defective Priests and Brokenness
Unit 7: Deuteronomy 24:1–4 and Torah
Introduction to Deuteronomy 24:1–4
Introduction to Ancient Near East Setting of Deuteronomy 24:1–4
Abandonment and Care in Ancient Near Eastern Law: Part 1
Abandonment and Care in Ancient Near Eastern Law: Part 2
Deuteronomic Background on Divorce
Deuteronomy 24:1–4: Characters
Deuteronomy 24:1–4: First Marriage: Part 1
Deuteronomy 24:1–4: First Marriage: Part 2
Deuteronomy 24:1–4: Communal Law
Defiled in Deuteronomy 24:1–4: Part 1
Defiled in Deuteronomy 24:1–4: Part 2
Defiled in Deuteronomy 24:1–4: Part 3
Deuteronomy 24:1–4: Interpretation
Application of Torah
Conclusion: Thematic versus Contextual Application
About the Instructor
Dr. Rebekah Josberger is associate professor of Old Testament and Hebrew at Multnomah University in Portland, Oregon. She has a passion for Old Testament studies and biblical languages, particularly Hebrew. Her goal is for students to learn to read and understand the Word for themselves, whether in Hebrew or English, so that they might better know its Author.
Since her arrival at Multnomah in 2009, Dr. Josberger's efforts have been focused on developing a solid seminary Hebrew program that enables and encourages students to learn Hebrew well enough to use it for personal growth and ministry long after their student days are over. At Multnomah she enjoys the opportunity to pursue her interests and to work with colleagues she respects and admires while pouring into the lives of students.
Dr. Josberger earned her PhD at the Southern Baptist Theological Seminary and is continuing research related to her dissertation topic, "Between Rule and Responsibility: The Role of the Father as Agent of Righteousness in Deuteronomy's Domestic Ideology." She has a special love for the book of Deuteronomy and shares the psalmist's passion for the Torah as so beautifully expressed in Psalms 19 and 119.
Getting the most out of Mobile Ed
Logos Mobile Education is a highly effective cross-platform learning environment that integrates world class teaching with the powerful study tools and theological libraries available in Logos Bible Software. Every course provides links to additional resources and suggested readings that supplement the lecture material at the end of every transcript segment.
This course comes with an Activities resource that functions as a type of "workbook" for the course. This resource includes learning activities such as: places for you to respond to reflection questions, exercises that will challenge and show you how deepen your understanding of this course by using specific Logos tools and resources, tutorial videos on different features of Logos Bible Software, and links to relevant Logos guides and tools. A link to open the Activities resource is conveniently placed at the end of every segment.
More details about these resources