Mobile Ed: TH275 Sacramental Theology (2 hour course)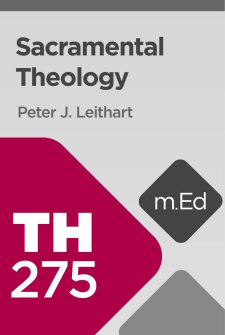 Mobile Ed: TH275 Sacramental Theology (2 hour course)
•
Runs on Windows, Mac and mobile.
Overview
Sacramental theology has to be understood in the context of ecclesiology, in the context of the doctrine of the church. That's not always the way that sacramental theology has been understood. Many of the debates about the Lord's Supper, for example, seem to be based on a forgetfulness that the Church is present at the Lord's Supper. The debates have been about the mode of Jesus' presence in the bread and the wine. All of those questions are important questions, but they all can be asked without even considering the fact that the Church has gathered at the Lord's Table to do something. All of those questions assume that our only concern with the Lord's Supper is the bread and the wine set out on the table. In order to understand sacraments properly, we have to put the sacraments within that ecclesial context, within that liturgical context. If we don't, we are liable to ask bad questions and come up with bad answers. In laying out that primary point, in this course, we will look at first the question of, what are sacraments? Are sacraments signs, are they symbols, are they something else?
Course Outline
Unit 1: Introduction: What Are Sacraments?
Introducing the Speaker and the Course
A Rite of the Christian Church
Sacraments and Church
Unit 2: Sacraments and the Old Covenant
Sacraments of the Law
Rites of Worship, Purification, Access, and Atonement
Signs and Rites Mark Out a People
Unit 3: Sacraments of the New Covenant
Rites That Declare Old Testament Promises Are Fulfilled in Christ
Baptism: 1 Corinthians and Galatians
Baptism: Romans 6
The Lord's Supper
Enacted Fulfillment of Promises
Unit 4: Conclusion to the Course
How Many Sacraments?
Reviewing the Basics
About the Instructor
Peter J. Leithart received an AB in English and History from Hillsdale College in 1981, and a Master of Arts in Religion and a Master of Theology from Westminster Theological Seminary in Philadelphia in 1986 and 1987, respectively. In 1998 he received his PhD at the University of Cambridge in England. He has served as editor and writer for American Vision in Atlanta, Georgia (1987-1989), and as a pastor of Reformed Heritage Presbyterian Church (now Trinity Presbyterian Church), Birmingham, Alabama from 1989-1995. From 1998-2013, he taught Theology and Literature at New Saint Andrews College and between 2003 and 2013 served as pastor of Trinity Reformed Church. He is currently President of the Theopolis Institute, a pastoral training institute in Birmingham, Alabama.
Getting the most out of Mobile Ed
Logos Mobile Education is a highly effective cross-platform learning environment that integrates world class teaching with the powerful study tools and theological libraries available in Logos Bible Software. Every course provides links to additional resources and suggested readings that supplement the lecture material at the end of every transcript segment.
This course comes with an Activities resource that functions as a type of "workbook" for the course. This resource includes learning activities such as: places for you to respond to reflection questions, exercises that will challenge and show you how deepen your understanding of this course by using specific Logos tools and resources, tutorial videos on different features of Logos Bible Software, and links to relevant Logos guides and tools. A link to open the Activities resource is conveniently placed at the end of every segment.
More details about these resources