Mobile Ed: NT318 Book Study: The Gospel of Mark in Its Roman Context (8 hour course)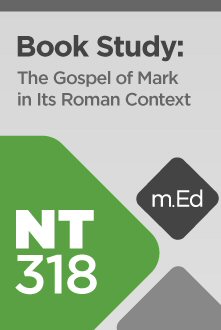 Mobile Ed: NT318 Book Study: The Gospel of Mark in Its Roman Context (8 hour course)
•
Runs on Windows, Mac and mobile.
Overview
Explore the social settings, traditions, and historical setting, as well as the question of the authorship of Mark. Tackle the first half of Mark, which is dedicated to Jesus' ministry in Galilee, where he performed miracles; and the second half of Mark, which is focused on Jesus in Jerusalem and the passion. Discover the purpose of Mark's Gospel, which is to present Jesus as God's true Son who fulfills his mission on earth. Dr. Craig Evans sheds light on the book of Mark and brings the text to life.
Course Outline
Introduction
Introducing the Speaker and the Course
Unit 1: Introduction to the Gospel of Mark
Who Wrote Mark and When? Part 1
Who Wrote Mark and When? Part 2
Living Voices
Mark and Qumran Cave 7
Manuscripts of Mark
Historical Context of Mark
Mark's Incipit
Unit 2: Jesus' Public Ministry Begins
Mark's Thesis Statement (1:1–3)
John the Baptist
The Kingdom of God in Mark 1:15
Jesus in Capernaum
Unit 3: Jesus' Power as Exorcist and Healer
Names and Pigs
Jesus Succeeds Where Others Fail
Exorcism Methods
Jesus versus Solomon
Wanted: Holy Spirit Power
Enduring Legacy of Jesus' Power
Unit 4: Son of Man, Apostles of God
Healing and Forgiving the Paralytic
Son of Man
Apostles Sent by God
Sowing the Word
Structure of Mark
Unit 5: Messianic Revelations
Peter's Confession of Christ
Jesus' Passion Prophecy
Take Up Your Cross
Heavenly Confirmation
Unit 6: Kingdom Ethics and Relationships
Divorce
Children
The Rich Man
Wealth and the Kingdom of God
Service in the Kingdom
Suffering as Atonement in Jewish Tradition
Healing of Bartimaeus
Unit 7: Jesus in Jerusalem
Triumphal Entry: Part 1
Triumphal Entry: Part 2
The Fig Tree
House of Prayer or Robbers' Den?
Jeremiah's Warning
Jesus' Calculated Risk
Unit 8: Escalating Antagonism
Narrative Structure
By What Authority?
Wicked Vineyard Tenants: Part 1
Wicked Vineyard Tenants: Part 2
Trying to Trap Jesus
David and the Identity of the Messiah
Greed on Display
Jesus' End Times Prophecies
Unit 9: Road to the Cross
Devotion and Betrayal
The Last Supper
Words of Institution
Gethsemane
Jesus' Arrest
Jesus' Trial
Peter's Denial
Unit 10: Death, Burial, and Resurrection
Jesus before Pilate
King of the Jews
The Death of Jesus
Jesus' Burial
The Resurrection of Jesus
The Last Twelve Verses of Mark
Was Jesus Really Resurrected?
Conclusion
Bringing the Gospel to Life
About the Instructor
Craig A. Evans is the Payzant Distinguished Professor of New Testament and director of the graduate program at Acadia Divinity College in Wolfville, Nova Scotia. He has written extensively on the historical Jesus and the Jewish background of the New Testament era. His books include Jesus and His Contemporaries: Comparative Studies, a commentary on Mark in the Word Biblical Commentary, Jesus and the Ossuaries, and Ancient Texts for New Testament Studies. He recently served on the advisory board of the Gospel of Judas project for the National Geographic Society and has appeared frequently as an expert commentator on network television programs such as Dateline, as well as in various documentaries on the BBC, the Discovery Channel and the History Channel.
Getting the most out of Mobile Ed
Logos Mobile Education is a highly effective cross-platform learning environment that integrates world class teaching with the powerful study tools and theological libraries available in Logos Bible Software. Every course provides links to additional resources and suggested readings that supplement the lecture material at the end of every transcript segment
This course comes with an Activities resource that functions as a type of "workbook" for the course. This resource includes learning activities such as: places for you to respond to reflection questions, exercises that will challenge and show you how deepen your understanding of this course by using specific Logos tools and resources, tutorial videos on different features of Logos Bible Software, and links to relevant Logos guides and tools. A link to open the Activities resource is conveniently placed at the end of every segment.