Mobile Ed: NT319 Book Study: The Gospel of Luke in a Gentile Context (10 hour course)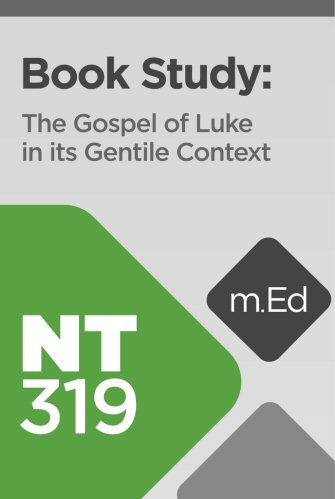 Mobile Ed: NT319 Book Study: The Gospel of Luke in a Gentile Context (10 hour course)
•
Runs on Windows, Mac and mobile.
Overview
Dr. Craig Evans examines how Luke transformed the Jesus story into something that Gentiles in his time could appreciate. Luke wanted his readers to know that his account was based on early sources—credible eyewitness testimony that he himself had accessed for the composition of this Gospel. Remember, this was a Jewish story, one about Jesus the Jew, fulfiller of the Jewish Scriptures, and was part of the history of the people of Israel. So, what relevance did it have for Gentiles? Luke wanted the Gentiles to know that this Jewish Messiah, Jesus of Nazareth, was their Savior too. And that is still true today—He's our savior also. Luke's other emphases—election, the unity of the church, proper use of wealth, and what constitutes true righteousness—remain valid for the church today as well.
Course Outline
Introduction to the Gospel of Luke
The Ministry in Galilee
The Journey to Jerusalem
The Ministry in Jerusalem
The Passion and Resurrection of Jesus
About the Instructor
Craig A. Evans is the Payzant Distinguished Professor of New Testament and director of the graduate program at Acadia Divinity College in Wolfville, Nova Scotia. He has written extensively on the historical Jesus and the Jewish background of the New Testament era. His books include Jesus and His Contemporaries: Comparative Studies, a commentary on Mark in the Word Biblical Commentary, Jesus and the Ossuaries, and Ancient Texts for New Testament Studies. He recently served on the advisory board of the Gospel of Judas project for the National Geographic Society and has appeared frequently as an expert commentator on network television programs such as Dateline, as well as in various documentaries on the BBC, the Discovery Channel and the History Channel.
Getting the most out of Mobile Ed
Logos Mobile Education is a highly effective cross-platform learning environment that integrates world class teaching with the powerful study tools and theological libraries available in Logos Bible Software. Every course provides links to additional resources and suggested readings that supplement the lecture material at the end of every transcript segment.
This course comes with an Activities resource that functions as a type of "workbook" for the course. This resource includes learning activities such as: places for you to respond to reflection questions, exercises that will challenge and show you how deepen your understanding of this course by using specific Logos tools and resources, tutorial videos on different features of Logos Bible Software, and links to relevant Logos guides and tools. A link to open the Activities resource is conveniently placed at the end of every segment.