Mobile Ed: NT317 Book Study: The Gospel of Matthew in Its Greco-Roman Context (11 hour course)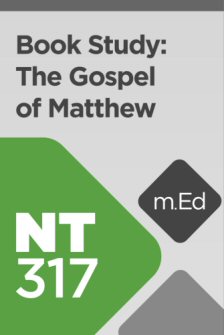 Mobile Ed: NT317 Book Study: The Gospel of Matthew in Its Greco-Roman Context (11 hour course)
•
Runs on Windows, Mac and mobile.
Overview
Analyze the Gospel of Matthew as an ancient biography meant to communicate historical information as well as moral, theological, and political lessons. This course is primarily focused on the major themes in Matthew, including cross-cultural ministry, evangelism, Christian education, and making disciples of the nations, while highlighting Jesus' teaching and His love and patience for His disciples.
Course Outline
Introduction to Matthew: Great Commission
Gospel of Matthew 1–4
Gospel of Matthew 5–7
Gospel of Matthew 8–9
Gospel of Matthew 10–12
Gospel of Matthew 13
Gospel of Matthew 14–17
Gospel of Matthew 18–22
Gospel of Matthew 23–25
Gospel of Matthew 26–28
About the Instructor
Dr. Craig S. Keener is professor of New Testament at Asbury Theological Seminary and is the author of 17 books, 4 of which have won book awards in Christianity Today. One, The IVP Bible Background Commentary: New Testament, has sold more than half a million copies. He has authored scholarly commentaries on Matthew, John, Acts, Romans, 1–2 Corinthians, and Revelation.
Getting the most out of Mobile Ed
Logos Mobile Education is a highly effective cross-platform learning environment that integrates world class teaching with the powerful study tools and theological libraries available in Logos Bible Software. Every course provides links to additional resources and suggested readings that supplement the lecture material at the end of every transcript segment.
This course comes with an Activities resource that functions as a type of "workbook" for the course. This resource includes learning activities such as: places for you to respond to reflection questions, exercises that will challenge and show you how deepen your understanding of this course by using specific Logos tools and resources, tutorial videos on different features of Logos Bible Software, and links to relevant Logos guides and tools. A link to open the Activities resource is conveniently placed at the end of every segment.
More details about these resources