Mobile Ed: LA211 Introducing New Testament Discourse Grammar (6 hour course)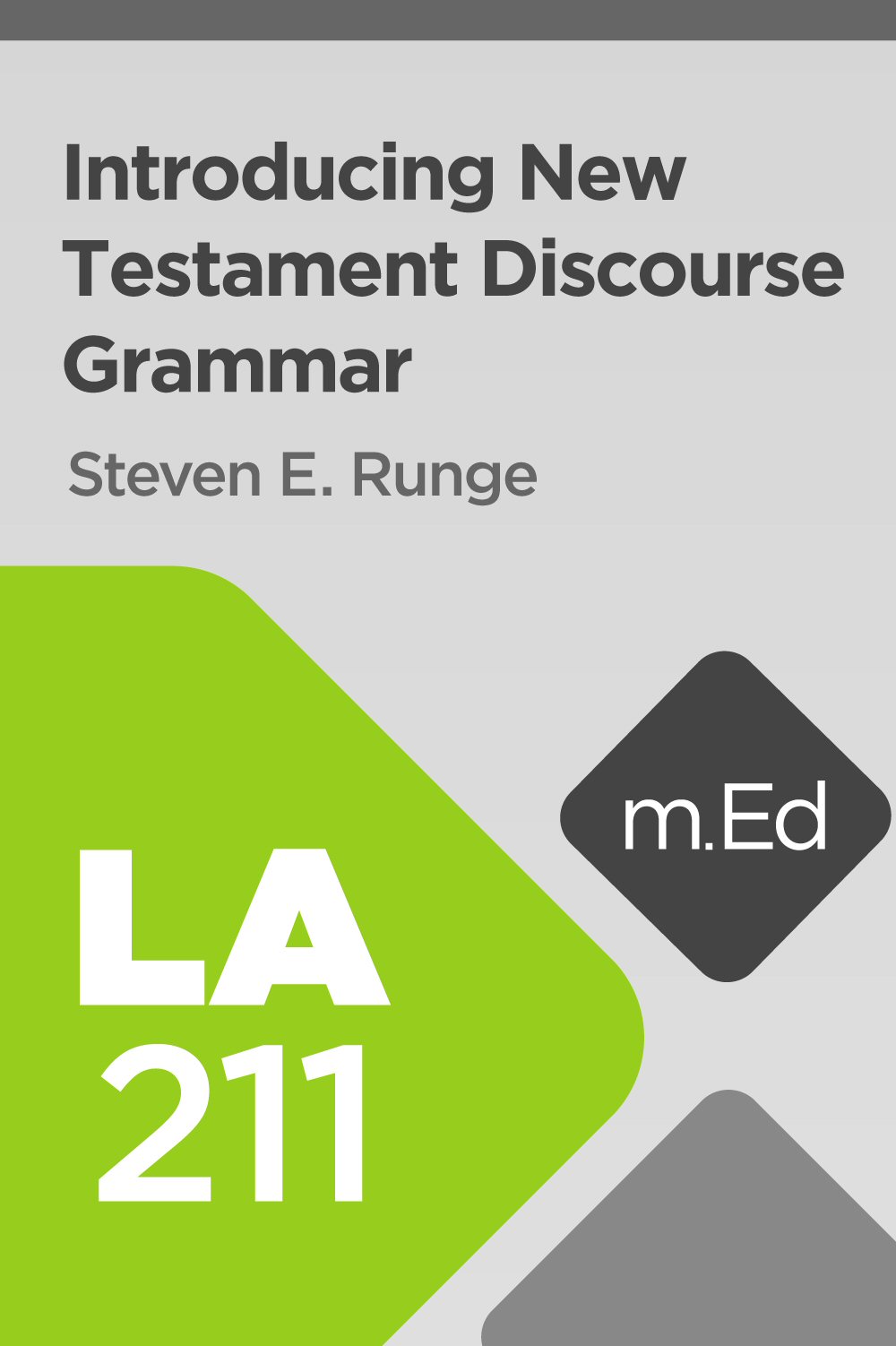 Mobile Ed: LA211 Introducing New Testament Discourse Grammar (6 hour course)
•
Runs on Windows, Mac and mobile.
Overview
Compare any languages and you'll find they have similar tasks that need to be accomplished. Whether it's creating anticipation, highlighting something important, or structuring the overall flow, the discourse devices that accomplish these tasks help us understand the meaning of the text. In this course, Dr. Runge helps you understand how these discourse devices function both in English and Greek so you can better exegete the Greek New Testament and communicate it's meaning from the pulpit or in the classroom. Dr. Runge explores these discourse devices in easy-to-understand language and with illustrations of how we use them in English. He then shows you the exegetical significance of these devices for interpreting the Greek New Testament.
Course Outline
Introduction
Introducing the Speaker and the Course
Unit 1: Foundations of Discourse Grammar
Objectives
Principles vs. Rules
Principle 1: Choice Implies Meaning
Example 1: Mark 5:25–27
Using a Visual Filter to Study Verbal Moods in the Gospels
Example 2: Ephesians 5:18–22
No Choice, No Meaning
Principle 2: Markedness
Organizational Framework
Markedness in Real Life
Young Frankenstein
Principle 3: Semantic Meaning vs. Pragmatic Effect
Examples of Naming
The Dude Commercial
Using the Analysis View to Find Pragmatic Effects of ἀδελφός (adelphos)
Review of the Three Principles
Unit 2: Connectives
Introduction to Connectives
Asyndeton
Καί (kai) and Adverbial Kαί (kai)
Γάρ (gar)
Μέν (men)
Ἀλλά(alla)
Processing Discourse
Δέ(de) and Narrative Τότε (tote)
Using the Sentence Diagramming Tool for Sermon Preparation
Οὖν (οun)
Διὰ τοῦτο(dia touto)
Connectives in Philippians 3
Unit 3: Forward-Pointing Devices (FPDs)
Introducing FPDs
Reference and Target
Questions and Pronouns
Adverbs
The Use of Μέν (men)
Using a Syntax Search to Find Point/Counterpoint Sets
The Use of Εί Μή (eimē)Exceptions
Use of Ἀλλά (alla)
Metacomments
Searching LDGNT or HDNT for Metacomments
Vocatives
Historical Present
Redundant Quotative Frames
Tail-Head Linkage
Unit 4: Introduction to Information Structure
Mental Representations
Structure of Information
Structuring Information
Natural Information Flow
Questions, Presuppositions, and Answers
Frames of Reference
File Cabinets
Status of Information
Frames of Reference: New Testament Examples
Frames of Reference: More New Testament Examples
Topical Frames
Setting Up a Custom Guide for Technical Commentaries
Topical Frames Examples
Temporal Frames
Spatial Frames
Contrast
Conditional/Exceptive Frames
Searching the Grammatical Constructions Dataset
Comparative Frames
Reason/Result Frames
Circumstantial Frames, Part 1
Circumstantial Frames, Part 2
Circumstantial Frames, Part 3
Using the Cited By Tool with a Custom Grammar Collection
Unit 5: Introduction to Thematic Highlighting Devices
Principles
Overspecification
Overspecification and Point of View
Searching the Referent Dataset to Examine Point of View in Narrative
Right-Dislocation
Recharacterization and Delayed Information
Discourse Grammar Reading Strategy
Thematic Addition
Thematic Addition Illustrated
Changed Reference
Thematic Address
Near/Far Distinction
Contemptuous Use
Using the Milestone Data Type in a Search
Unit 6: From Grammar to Analysis
What Is Discourse Analysis?
Course Review
About the Instructor
Dr. Steven E. Runge serves as a scholar-in-residence at Faithlife and as a research associate in the Department of Ancient Studies at the University of Stellenbosch in South Africa. He has a doctor of literature degree in biblical languages from the University of Stellenbosch. In preparation for his doctoral research, Dr. Runge completed several years of study in the linguistic fields of pragmatics and discourse grammar.
Dr. Runge has served as a visiting professor teaching Greek discourse grammar at Knox Theological Seminary; Dallas Theological Seminary; Wycliffe Hall, Oxford; Wales Evangelical School of Theology; and Southern Seminary. He also served as an adjunct faculty member at Northwest Baptist Theological College, Trinity Western University, and Associated Canadian Theological Schools (ACTS) while completing his education. He is also very active in the church. He and his wife have two daughters and live in Bellingham, WA.
Getting the most out of Mobile Ed
Logos Mobile Education is a highly effective cross-platform learning environment that integrates world class teaching with the powerful study tools and theological libraries available in Logos Bible Software. Every course provides links to additional resources and suggested readings that supplement the lecture material at the end of every transcript segment.
This course was produced with screencast videos. These videos provide tutorials showing you how to use Logos Bible Software in ways that are tied directly into the content of the course. We are now producing Activities resources as a replacement for screencast videos. We plan on updating this course to include this additional Activities resource in the future for no extra charge.
More details about these resources