Mobile Ed: CH152 Introducing Historical Theology II: Luther to the Twenty-First Century (6 hour course)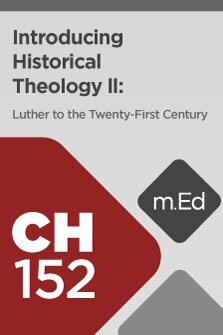 Mobile Ed: CH152 Introducing Historical Theology II: Luther to the Twenty-First Century (6 hour course)
•
Runs on Windows, Mac and mobile.
Overview
In this course, you'll begin by studying the Catholic church and its theology on the cusp of the Protestant Reformation, setting the stage for the work of Luther, Calvin, and other Protestant Reformers. You'll continue on to study the post-Reformation period and various Christian movements such as Pietism, Puritanism, and Methodism. A study of modernity, beginning with the Enlightenment and the scientific revolutions, introduces the advent of liberal theology and the response of conservative theologians to the challenges of modernity. The course ends with a study of the postmodernity—its meaning, and the variety of ways that Christian theologians have responded to postmodern thought.
Course Outline
Theology in the Reformation of the Sixteenth Century
Theology in the Aftermath of the Reformation
Theology in Relation to Modernity
Early Twentieth Century Movements in Theology
Late Twentieth Century Movements in Theology
Postmodern Movements in Theology
About Roger E. Olson
Roger E. Olson is the Foy Valentine Professor of Christian Theology and Ethics at Baylor University's George W. Truett Theological Seminary. Previously he served as professor of theology at Bethel University in Minnesota. He is the author of eighteen books including The Journey of Modern Theology: From Reconstruction to Deconstruction (Intervarsity Press). Dr. Olson was born and raised in the Upper Midwest of the United States and considers himself a "Bapticostal." He grew up Pentecostal but became Baptist while attending North American Baptist Seminary. His PhD in Religious Studies is from Rice University (Houston, Texas) and he studied at the University of Munich with theologian Wolfhart Pannenberg. He served as editor of Christian Scholar's Review in the 1990s and has served as consulting and contributing editor for Christianity Today. He is married and has two adult daughters and two beautiful grandchildren. He enjoys Southern gospel music, Victorian gothic mystery books, and traveling.
Getting the most out of Mobile Ed
Logos Mobile Education is a highly effective cross-platform learning environment that integrates world class teaching with the powerful study tools and theological libraries available in Logos Bible Software. Every course provides links to additional resources and suggested readings that supplement the lecture material at the end of every transcript segment.
This course comes with an Activities resource that functions as a type of "workbook" for the course. This resource includes learning activities such as: places for you to respond to reflection questions, exercises that will challenge and show you how deepen your understanding of this course by using specific Logos tools and resources, tutorial videos on different features of Logos Bible Software, and links to relevant Logos guides and tools. A link to open the Activities resource is conveniently placed at the end of every segment.