MP Seminars: Logos 7 Training Manual Volumes 1–3 (Digital)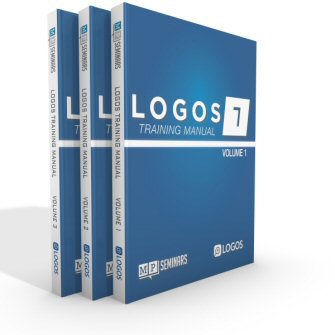 MP Seminars: Logos 7 Training Manual Volumes 1–3 (Digital)
•
Runs on Windows, Mac and mobile.
Overview
The Logos Bible Software Training Manuals Volumes 1-3 were designed to be sold as a complete set. This collection features 824 pages spanning 100 chapters, making it the perfect companion to your software. This digital set will guide you step by step through the vast majority of Logos capabilities. Keep this set handy and you'll never be without practical instructions to help you unleash the power of Logos.
Order the 3 volume bundle and save!
Key Features
Volume 1: Includes 41 chapters and 322 pages
Volume 2: Includes 34 chapters and 244 pages
Volume 3: Includes 25 chapters and 260 pages
Easy to understand step by step instructions
Numerous color screenshots to illustrate the written explanations
Callouts to point you to the correct locations
Time saving keyboard shortcuts
Thorough Table of Contents
Helpful Index
And more!
Product Details
Title: Logos Bible Software 7 Training Manuals Volumes 1-3 Bundle (Digital)
Author: Morris Proctor
Publisher: MP|Seminars
Publication Date: 2016
Volumes: 3
Pages: 826
Platform: PC and Mac
Version: Logos 7
Individual Titles

Logos 7 is here, and so are the NEW Logos 7 Training Manuals! Volume 1, in the 3-volume set, covers the foundational features you need to know to jumpstart your mastery of Logos Bible Software.
Contents:
Logos Desktop Overview
Home Page Overview
Home Page Bible Study
Custom Home Page Layouts
Passage Guide
Exegetical Guide
Bible Word Study
Sermon Starter Guide
Topic Guide
Custom Guides and Reports
Atlas
Bible Browser*
Bible Sense Lexicon
Concordance
Factbook
Timeline
Wikipedia
Information
Text Comparison
Library
Prioritized Resources
The Tab System
Resource Panels
Multiple Resources
Parallel Resources
Bible Cross References
Layouts
QuickStart Layouts
Overview of Searching
Search Collections
Basic Searching
Bible Searching
Corresponding Search Results
Inline Searching
Clause Searching
Morphology Searching
Media Searching
Right Mouse Searching
Cited By
Look Up and Power Lookup
Find
*Only in Logos Now

Logos 7 is here, and so are the NEW Logos 7 Training Manuals! Volume 2, in the 3-volume set, continues practical and understandable instructions for various Logos features including numerous chapters on language tools.
Contents:
Command Box
Shortcuts Bar
History
Bookmarks
Favorites
Courses
Ask the Author
Groups
Media
Copy Bible Verses
Explorer
Passage Analysis
Highlighting
Labeling
Visual Filters
Community Tags
Corresponding Words
Reverse Interlinears
Hebrew and Greek Features
Discourse Analysis*
Reader's Edition Interlinear
Grammatical Constructions
Lemma in Passage
Louw-Nida Numbers
Strong's Numbers
Syntax
Timeline Resources
Bible Harmonies
Lectionary
Media Collection
Media Resources
Gestures
Drawing Mode
Program Settings
*Only in Logos Now

Logos 7 is here, and so are the NEW Logos 7 Training Manuals! Volume 3, in the 3-volume set, provides even more helpful explanations for Logos features focusing especially on Documents and Interactive Resources.
Contents:
Documents
Bibliography
Clippings
Handout
Notes
Highlighting Notes
Community Notes
Morph Query*
Passage List
Prayer List
Reading Plan
Sentence Diagram
Sermon Editor
Syntax Search
Visual Filter Documents
Word Find Puzzle
Word List
Interactives
Biblical Interactives
Faceted Interactives
Graphical Interactives
Parallel Interactives
Textual Interactives
Sentence Datasets
Figurative Language Datasets
*Only in Logos Now
About Morris Proctor
Morris Proctor, authorized trainer for Logos Bible Software, offers three-day Camp Logos training seminars around the country. Ever since Logos Bible Software revolutionized his personal study, he has devoted his time through his company, Morris Proctor Seminars, to training Logos users to realize the software's full potential. In the manuals, Morris Proctor distills some of his best seminar content into convenient, helpful reference guides.
Morris Proctor writes in plain English, not "computerese," and offers practical tips that can be applied right away. His screenshots illustrate his written explanations. With these useful manuals, you'll be amazed at how quickly you master Logos Bible Software 7!
Check the Camp Logos calendar for the next Camp Logos near you!
More details about these resources