T&T Clark Karl Barth Collection (19 vols.)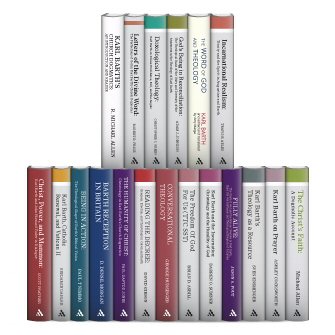 Overview
These new volumes from T&T Clark on Karl Barth offer the latest scholarship on this massively important figure in Christian theology and biblical studies whose work continues to influence the church and the academy today. Barth, the Swiss pastor and Protestant systematician, was described by Pope Pius XII as the most important theologian since Thomas Aquinas. Barth continues to be a major influence on students, scholars, and preachers from every Christian tradition. His theology found its expression mainly through his closely reasoned 14-part magnum opus, Die Kirchliche Dogmatik, or Church Dogmatics. The Church Dogmatics, which took over 30 years to write, is regarded as one of the most important theological works of all time, and it represents the pinnacle of Barth's achievements as a theologian.
This collection of monographs provides helpful resources on Barth's thought and influence, guides to his work, and in-depth analysis of his contributions to theological and biblical studies. Several volumes focus on the influence Barth has had on the Christian world and compare his thought and influence with those of other noted figures in history, such as John Howard Yoder and Hans Urs von Balthasar and the development of Catholic doctrine leading up to Vatican II.
The Logos Bible Software editions of these volumes are designed to streamline and enhance your study and understanding of Karl Barth. Scripture passages link directly to your English translations and original-language texts, and important theological concepts link to dictionaries, encyclopedias, and a wealth of other resources in your digital library. In addition, you can perform powerful searches by topic and find what other authors, scholars, and theologians have to say about topics like Barth's analogia entis, Barthian neo-orthodoxy, and the relationship between Barth and Calvin's doctrines of election.
Key Features
Provides historical-critical studies on Barth's theology
Offers in-depth guides to Barth's thought and influence
Presents critical comparative analysis of Barth and other prominent theologians
Includes a comprehensive index to Karl Barth's Church Dogmatics
Individual Titles