Transformative Word Series: Intro Collection (8 vols.)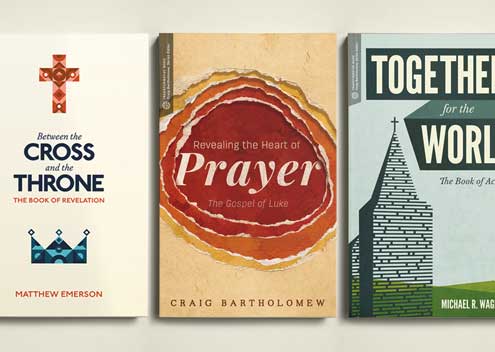 Transformative Word Series: Intro Collection (8 vols.)
•
Runs on Windows, Mac and mobile.
The Transformative Word Series
God's Word is transformative. It is this conviction which gives the Transformative Word series its name and its unique character. Series Editor Craig G. Bartholomew has worked alongside authors from around the world to identify a key theme in each book of the Bible, and each volume provides careful Biblical exegesis centered on that gripping theme. The result is an engaging, accessible thematic exploration of a biblical book, poised to offer you new and refreshing insights. This eight-volume collection brings together volumes spanning the Old and New Testaments and covers all the major genres of biblical literature.
These thematic studies set the stage for reading, teaching, and preaching through Scripture. Application isn't just limited to individual passages but is also focused on the overarching themes of each biblical book. The result is an engaging, accessible thematic exploration of Scripture, poised to offer you new and refreshing insights. The Transformative Word volumes were designed to pair with your favorite commentary, to enrich your study with a thematic as well as exegetical perspective.
Key Features
In-depth thematic studies that work through a single book of the bible
Personal stories and conversational tone help you apply the lessons to your everyday life
Guided reflection questions designed for individual or group study
Product Details
Title: Transformative Word Series: Intro Collection
Series: Transformative Word Series
Publisher: Lexham Press
Volumes: 8
God Behind the Scenes: The Book of Esther
Author: Wayne Barkhuizen
Publisher: Lexham Press
Publication Date: 2016
Pages: 128
Even when it feels like he is absent, God is always at work behind the scenes. Although the book of Esther contains no direct references to God, his fingerprints are found all over it. The book traces the unseen hand of God, working through the lives of his people to deliver them from destruction. In God Behind the Scenes, Wayne K. Barkhuizen examines the strange yet gripping story of Esther, pointing out how it's still relevant today. He shows how divine Providence was active in preserving the people through whom the Messiah, Jesus Christ, would one day come.
Wayne Barkhuizen has done the Church of Christ worldwide a great favor with his book God Behind the Scenes. Here is an excellent presentation of the message of the book of Esther. Written simply and very engagingly, Wayne puts Esther in historical perspective and also succeeds in putting flesh and blood on all the characters in the story. This book is a great reminder of the providence and sovereignty of God over all of life and his special care for his own people. This is an altogether helpful book that will not only be a great help to individual Christians but also helpful for those who meet in group studies. I highly recommend it.
—Rt. Rev. Frank Retief, former presiding bishop of REACH-SA
When You Want to Yell at God: The Book of Job
Author: Craig G. Bartholomew
Publisher: Lexham Press
Publication Date: 2014
Pages: 112
Experience the book of Job through a different set of eyes. In When You Want to Yell at God, Craig G. Bartholomew asks us to let go of the Job we think we know so we can get to know the real man. Job's story refutes the idea that what goes around comes around. Suffering is not always the result of wrong behavior, and right behavior does not always guarantee blessing. But God is always faithful. Looking at Job as the height of biblical poetry, Bartholomew helps us see just how beautiful and touching this man's struggle with God really is.
Glimpsing the Mystery: The Book of Daniel
Author: Barbara M. Leung Lai
Publisher: Lexham Press
Publication Date: 2016
Wars, conflicts, global catastrophes, and senseless human suffering—all these have the potential to shake our faith. The message of the book of Daniel is that God desires to reveal himself in his people's difficult situations, whether in the Babylonian exile of Daniel's day or the crises of our own. In Glimpsing the Mystery, Barbara M. Leung Lai unpacks the stories of the first half of Daniel and the visions of the second half, showing through how God provides glimpses into his mysterious sovereignty. While sometimes all we get are hints, we can come away with the assurance that even when life is hard, God wants to pull back the curtain and show us that he still holds us in his hand.
Barbara M. Leung Lai brings her considerable knowledge and clear insight into her concise yet substantial presentation of the book. I recommend Glimpsing the Mystery to all who not only want to understand the book of Daniel better, but also have it transform their lives and faith.
—Tremper Longman III, Robert H. Gundry Professor of Biblical Studies, Westmont College
Faith Amid the Ruins: The Book of Habakkuk
Author: Heath A. Thomas
Publisher: Lexham Press
Publication Date: 2016
Pages: 112
During Habakkuk's time, God's people turned against him. Strife and violence surrounded the prophet. And yet, God called him to be faithful. In Faith Amid the Ruins, Heath Thomas brings the story of Habakkuk to life—reminding us that although it's a small book about a lesser known prophet, its themes and importance are anything but minor. When we face hardship and opposition, it's easy to seek security and stability instead of God's will. Habakkuk teaches us both about the faithfulness of God and what it looks like to live faithfully before God when life turns upside down.
Faith Amid the Ruins is an extraordinary little book. In it, Heath Thomas reveals the theological center of Habakkuk: God calls us to be faithful even in the midst of the most difficult social and political circumstances, and makes our fidelity possible through his own faithfulness toward us. I can't imagine a more timely message for global Christians today.
—Bruce Ashford, author of Every Square Inch and One Nation Under God
Revealing the Heart of Prayer: The Gospel of Luke
Author: Craig G. Bartholomew
Publisher: Lexham Press
Publication Date: 2016
Although prayer was a central aspect of Jesus' life throughout all four gospels, it is often overlooked. See Luke's Gospel anew—through the lense of prayer. As Christians, we are called to pray to our Father. This practice is often a hidden affair, between us and God, and can be easily neglected. Why do we settle for less when God wants to give us so much more? In Revealing the Heart of Prayer, Craig G. Bartholomew helps us see how to live and participate effectively in God's mission—by looking to Jesus as an example for how we should pray.
Together for the World: The Book of Acts
Author: Michael R. Wagenman
Publisher: Lexham Press
Publication Date: 2016
Pages: 112
First-century Christians asked many of the same questions we ask today: Where does the church of Jesus Christ stand in the world? Where does the church fit in such a religiously diverse society? How should Christians respond to marginalization, ridicule, and insult? In Together for the World, Michael Wagenman reminds us that the book of Acts is about more than just the beginning of church history. It's a story that reveals the ongoing means by which God is still transforming people to be his witnesses in the world.
Wagenman successfully displays the unique role of Acts within the Bible, rescues us from a tired reading of Scripture, and helps us to hear its message with fresh ears. Though [Acts is] a well-worn narrative in many churches, Together for the World brings [the book] to life in its ancient and modern contexts, helping the reader to behold Luke's magisterial aims—literally and literarily.
—Dru Johnson, professor of biblical and theological studies, The King's College
Cutting Ties with Darkness: 2 Corinthians
Author: John D. Barry
Publisher: Lexham Press
Publication Date: 2014
Pages: 160
The story behind 2 Corinthians is one of pain and heartache. The Apostle Paul is wrestling to maintain his relationship with the young church in Corinth that he established. Paul writes this deeply personal letter to pick up the pieces of a broken relationship. We all have painful stories and relationships that are on the rocks. In Cutting Ties with Darkness, John D. Barry explores how we deal with these scars in light of Jesus' example. How do we discern when to reconcile and when to walk away? In these relationships, our own judgment can become clouded. Paul tells us that we must cut ties with the darkness—both within ourselves and in others—before we're able to rebuild our lives on the redemption of Jesus.
In beautiful prose, John Barry offers a plethora of practical insights for our lives, relationships and ministries from 2 Corinthians. He shows how the letter as a whole fits together, and his heart for the world shines through as he provides illustrations from a range of cultures as well as what he has witnessed personally.
—Craig S. Keener, professor at Asbury Theological Seminary and author of commentaries on Acts, Matthew, John, Romans, 1–2 Corinthians, and Revelation
Between the Cross and the Throne: The Book of Revelation
Author: Matthew Emerson
Publisher: Lexham Press
Publication Date: 2016
Pages: 96
In Between the Cross and the Throne, Matthew Emerson brings one of the least-understood books in the Bible to life for the modern Christian. Revelation was written to a community facing a period of trial and persecution. John wanted to remind his readers that God, not Satan, is ultimately sovereign and victorious. In conversational tone, Emerson takes us through the book of Revelation, explaining the deep themes often missed within the book's complex imagery. He reminds us: We live between the time of Christ's coming and Christ's return—and in this tension, we can have hope.
Crisp, clear, and engaging, Between the Cross and the Throne briefly and competently examines the frequently misunderstood and often avoided book of Revelation. Readers will enjoy it and find themselves understanding much about Revelation's content, genres, imagery, narrative, theology, and message.
—Christopher W. Morgan, dean and professor of theology, School of Christian Ministries, California Baptist University
About Craig G. Bartholomew
Craig G. Bartholomew was born in Kwa Zulu Natal, South Africa, and he currently lives in Canada as a UK citizen. He is the Director of the Kirby Laing Institute for Christian Ethics, Cambridge, UK. He is the author of Ecclesiastes in the Baker Commentary on the Old Testament Wisdom and Psalms series, an associate editor of the Dictionary for Theological Interpretation of the Bible, and the coauthor with Michael W. Goheen of The Drama of Scripture. He has a PhD from the University of Bristol.