Mobile Ed: OT355 Book Study: Isaiah (10 hour course)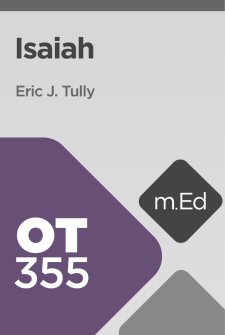 Mobile Ed: OT355 Book Study: Isaiah (10 hour course)
•
Runs on Windows, Mac and mobile.
Overview
This course explores the main themes presented in the book of the prophet Isaiah. Israel's unfaithfulness to her faithful God in the areas of worship, idolatry, and covenant obedience is central in Isaiah, and this theme is explored reflectively for self-examination of our own obedience in these areas. Another key theme is the supremacy of God not only over Israel, but also over every other nation of the world and any other presumed god; Israel's God, Yahweh, is presented by Isaiah as being greater than anything else anyone can conceive of. The course also explores God's redemptive program and his ability to carry it out in light of his supremacy and undoubtable power. This redemptive program includes God's description of the character of, and future hope for, his people.
Learning Objectives
Upon successful completion you should be able to:
Gain new insight into Isaiah's significant theological teaching in its Old Testament context
Examine Isaiah's coherent argument about God's redemptive program, and analyze how the whole book fits together with links and themes
Understand how significant the book of Isaiah is for the New Testament and why Jesus views Himself as the Suffering Servant
Course Outline
Unit 1: Introduction to Isaiah
The Importance of Isaiah
The Difficulty of Prophecy
Introduction to Prophecy in the Ancient Near East: Egypt
Prophecy in the Ancient Near East: Mesopotamia
Prophecy in the Ancient Near East: Phoenicia and Canaan
Terminology of Prophecy and Prophets in the Old Testament
Characteristics of the Message of Old Testament Prophets
Isaiah's Superscription
Historical Context of Isaiah
Classic Critical View of Authorship
Contemporary Critical View of Authorship
Traditional View of Authorship
The Formation of a Prophetic Book
Interpreting the Prophets
A Brief Overview of the Structure of Isaiah
Unit 2: Israel Needs to Be Delivered Physically and Spiritually
Overview of Chapters 1–5
Three Metaphors for Judah's Condition (1:2–9)
God Rejects Judah's Worship (1:10–15)
Call to Repentance (1:16–20)
Prophecies of Future Consequences (1:21–5:30)
Unit 3: Isaiah's Prophetic Call Is a Pattern for Israel's Deliverance
Overview of Chapter 6
Isaiah's Vision (6:1–2)
Isaiah's Cleansing (6:3–7)
Rejected Worship (6:8–13)
The Role of Isaiah 6 in the Structure of Isaiah
Unit 4: It Is YHWH Who Delivers
Overview of Chapters 7–39
Ahaz's Rebellion against YHWH Brings Judgment (Chapter 7)
The Syro-Ephraimite Threat (7:1–2)
Isaiah Tells Ahaz That the Coalition Will Fail (7:3–9)
Ahaz Is Invited to Trust YHWH, but Refuses (7:1–13)
The Prophecy of "Immanuel" (7:14–16 )
Assyria Will Destroy Judah (7:17–25)
Destiny of Those Who Do and Do Not Trust in YHWH (8–12)
Description of the Davidic, Messianic Figure (11:1–5)
Dominion of the Davidic, Messianic Figure (11:6–9)
Prophecies against the Nations (13:1–20:6): Part 1
Prophecies against the Nations (20:7–23:18): Part 2
Tyre's Historical Background (23:1–3)
Those Who Depend on Tyre (23:4–7)
The Detail of Tyre's Downfall (23:8–14)
The Song of the Prostitute and Yahweh's Total Victory (23:15–18)
"A Tale of Two Cities" (24–27)
Six Woes (28–35)
The Assyrian Threat (36:1–22)
Hezekiah Responds by Trusting YHWH (37:1–20)
The Results of Trusting YHWH (37:21–38)
An Ominous Warning (39:1–7)
Summary of Isaiah 7–39
Unit 5: YHWH Desires to Deliver and He Is Able to Deliver
Overview of Chapters 40–55
The Main Theme of Isaiah 40–55
YHWH's Comfort (40:1–11): Part 1
YHWH's Comfort (40:1–11): Part 2
YHWH's Power (40:12–31)
YHWH and the idols (40–55)
YHWH's Servant: Introduction (40–55)
Servant Song 1 (42:1–9)
Servant Song 2 (49:1–7)
Servant Song 3 (50:4–9)
Servant Song 4 (52:13–53:1)
Servant Song 4 (53:2–4)
Servant Song 4 (53:5–8)
Servant Song 4 (53:9–12)
Summary of Isaiah 54–55
Summary of Isaiah 40–55
Unit 6: YHWH's Deliverance Results in Hope, Ethical Transformation, and a New World
Overview of Chapters 56–66
Eschatological Hope (60–62): Part 1
Eschatological Hope (60–62): Part 2
Enabling by YHWH, the Divine Warrior (59:15b–21; 63:1–6)
Closer Look: Isaiah 63:1–6
Ethical Transformation (56:9–59:15a; 63:7–66:17): Part 1
Ethical Transformation (56:9–59:15a; 63:7–66:17): Part 2
Salvation for the World (56:1–8; 66:18–24): Part 1
Salvation for the World (56:1–8; 66:18–24): Part 2
Salvation for the World (56:1–8; 66:18–24): Part 3
Unit 7: Summary and Conclusions
Isaiah 1–6
Isaiah 7–39
Isaiah 40–55
Isaiah 56–66
Product Details
Title: OT355 Book Study: Isaiah
Instructor: Eric Tully
Publisher: Lexham Press
Publication Date: 2016
Product Type: Logos Mobile Education
Resource Type: Courseware, including transcripts, audio, and video resources
Courses: 1
Video Hours: 10
About Eric Tully
Dr. Eric Tully is assistant professor of Old Testament and Semitic languages at Trinity Evangelical Divinity School in Deerfield, Illinois. He is passionate about preaching the Old Testament and helping those in the church to interpret and proclaim it with competence and confidence. His research interests include textual criticism and translation studies, Hebrew linguistics, and prophetic literature. His dissertation, The Translation and the Translator of the Peshitta of Hosea, has been published, and he is currently working on several other writing projects. Eric and his wife, Traci, have two daughters.
Getting the most out of Mobile Ed
Logos Mobile Education is a highly effective cross-platform learning environment that integrates world class teaching with the powerful study tools and theological libraries available in Logos Bible Software. Every course provides links to additional resources and suggested readings that supplement the lecture material at the end of every transcript segment.
This course comes with an Activities resource that functions as a type of "workbook" for the course. This resource includes learning activities such as: places for you to respond to reflection questions, exercises that will challenge and show you how deepen your understanding of this course by using specific Logos tools and resources, tutorial videos on different features of Logos Bible Software, and links to relevant Logos guides and tools. A link to open the Activities resource is conveniently placed at the end of every segment.