Preserving Bible Times Collection (5 vols.)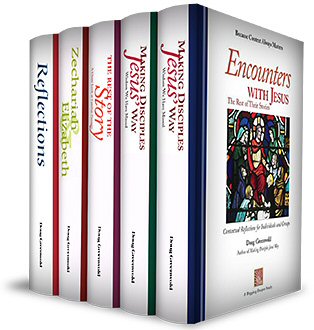 Overview
Ever wonder if there's something more you could be getting out of your Bible study? When Jesus spoke and the biblical writers penned their words, they had very precise meanings for the words they used and the images they invoked. The Bible's writers assumed many things about those who first read their accounts, much of which is easily missed by the contemporary Western mind. To fully grasp Scripture's meaning, we need to read Scripture as each biblical writer intended it to be read and understood.
In the Preserving Bible Times Collection (5 vols.), Doug Greenwold, Senior Teaching Fellow of Preserving Bible Times, contextually restores "familiar" Bible narratives by weaving back together the historical, cultural, literary, visual, and geographic contexts embedded in the passage. Through this integrated contextual approach, you can (re)discover the richness of the intended meaning of a passage and the epicenter of its intended transformational impact, thus allowing the Bible to come alive in fresh and new ways for today's reader, teacher, and pastor.
If you resonate with Kenneth Bailey, Alfred Edersheim, or James Montgomery Boice, then you'll love the Preserving Bible Times Collection (5 vols.). This portfolio of "familiar" passages not only rediscovers the Bible writer's intended approach to studying the Word of God, but shows you how to dig deeper to find more of God's truth and wisdom where you might have previously overlooked it.
Key Features
Contextually restores Bible narratives
Discusses the passage's issues from God's perspective
Encourages you to dig deeper to find God's truth and wisdom
Product Details
Title: Preserving Bible Times Collection
Author: Doug Greenwold
Volumes: 5
About Doug Greenwold
Doug Greenwold is the Senior Teaching Fellow of Preserving Bible Times, a ministry dedicated to preserving and presenting biblical truth through contextual restoration, where he teaches the Bible in conference, retreat, and workshop settings for church and para-church ministries. In 1988 Doug Greenwold visited Israel on a study program and realized the importance of integrating the context of the land with the biblical texts. Since then he has been an avid student and passionate teacher of the Bible in its contextual setting.
More details about these resources