Jesus Studies Collection (6 vols.)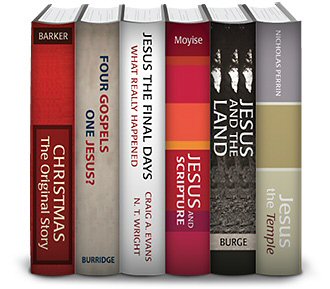 Overview
The Jesus Studies Collection (6 vols.) brings you an informative study of the person, work, and life of Jesus Christ. This collection compiles works by respected scholars, theologians, and authors including N.T. Wright, Craig A. Evans, and Gary M. Burge on the many fascinating issues surrounding Jesus. Topics of study include the use of Old Testament prophesy in the Christmas story and Jesus' teaching and ministry, the depiction of Jesus, his life, works, and teaching by the Gospel authors, and the significance of Jesus' death, burial, and resurrection. A biblical view of the Israel-Palestine debate is also addressed, as well as the relationship between Jesus and the Jerusalem Temple. The six volumes in this collection give not only a concise study of the historical Jesus, but also clear proof of his deity. The Jesus Studies Collection (6 vols.) is perfect for anyone serious about gaining a deeper understanding of the historical, literary, and cultural contexts surrounding Jesus and his ministry.
With the Logos Bible Software edition, all Scripture passages in the Jesus Studies Collection (6 vols.) are tagged to original language texts and English translation. This makes these resources more powerful and easier to access than ever before for scholarly work or personal Bible study. With the advanced search features of Logos Bible Software, you can perform powerful searches by topic or Scripture reference—finding, for example, every mention of Jesus or New Testament references to Old Testament prophesies.
Key Features
Academic studies on a variety of Christological topics
Illustrates the significance of Old Testament prophesies in the New Testament
Confirms Christ's existence and deity
Product Details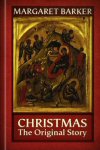 In Christmas, the Original Story Margaret Barker explores the nature of the Christmas stories and the nature and use of Old Testament prophecy. Beginning with John's account, it then goes on to include Luke and Matthew, the apocryphal gospels, and the traditions of the Coptic Church, to throw light upon wise men and their gifts, the character of Herod, Matthew's use of prophecy, the holy family in Egypt.
This book also discusses the stories we get from the Infancy Gospel of Jesus and the development of the Orthodox Christmas icon, as well as the Christmas story and the Mary material in the Koran.
Margaret Barker is an independent biblical scholar who has been developing her Temple Theology for many years, most recently as the basis for a theology for the environment. She is a former president of the Society for Old Testament Study, a member of the Ecumenical Patriarch's Symposium on Religion, Science and the Environment and a Methodist local preacher.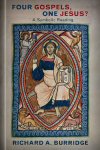 Four Gospels, One Jesus? A Symbolic Reading, 2nd ed.
Four Gospels, One Jesus? introduces Jesus through the four Gospel authors' portraits of him. Burridge gives a clear interpretation of each author's depiction of Jesus and compares the Gospels with classical biographies. He also uses symbols to represent each image of Jesus which include a human face, lion, ox, and eagle.
The text of this new edition has been updated to include developments in New Testament scholarship since the publication of the first edition. Connections with the films of Tolkien's The Lord of the Rings, and also the Revised Common Lectionary, have been added.
Here is an introduction to the gospels which, because it combines so well prayer and worship and scholarship, has a vitality and freshness about it which I find immensely appealing. Richard Burridge's 'symbolic reading' allows the four evangelists to tell their stories, respecting their individuality and differences, thus introducing the reader to both the fact and the mystery of the incarnate Lord.
—David Hope, former Arch-bishop of York
Novices and old hands alike will read the gospels with new eyes. Four Gospels, One Jesus? is a considerable achievement: scholarly yet accessible.
—Graham Stanton, Lady Margaret's Professor of Divinity, University of Cambridge
Richard A. Burridge is dean of King's College, London. His major study, What are the Gospels? A Comparison with Graeco-Roman Biography has been widely acclaimed as a breakthrough in Gospel criticism.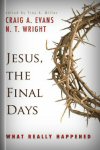 What do history and archaeology have to say about Jesus' death, burial, and resurrection? In this superb book for the general reader, two of the world's most celebrated writers on the historical Jesus share their greatest findings. Together, Craig A. Evans and N.T. Wright concisely and compellingly convey the drama and the world-shattering significance of Jesus' final days on earth.
Dr. Craig A. Evans received his PhD in New Testament from Claremont Graduate University and his DHabil from the Karoli Gaspar Reformed University in Budapest. He is the John Bisagno Distinguished Professor of Christian Origins at Houston Baptist University in Texas.
Evans taught at Trinity Western University in British Columbia for 21 years, where he directed the graduate program in biblical studies and founded the Dead Sea Scrolls Institute. He has recently served on the advisory board for the Gospel of Judas for National Geographic Society and has appeared frequently as an expert commentator on network television programs.
Evans has written and edited extensively on the historical Jesus and the Jewish background of the New Testament era. His published works include From Prophecy to Testament, Jesus and the Ossuaries, Jesus: The Final Days, and Dictionary of New Testament Background.
N.T. Wright is professor of New Testament and early Christianity at St. Andrews University. Previously, he was the bishop of Durham. He has researched, taught, and lectured on the New Testament at McGill, Oxford, and Cambridge Universities, and has been named by Christianity Today a top theologian. Wright has written and lectured extensively around the world, authoring more than forty books and numerous articles in scholarly journals and popular periodicals.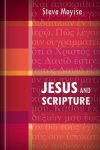 Steve Moyise offers an illuminating yet accessible guide to the various ways that Jesus employed Scripture, both in his teaching and in his understanding of his ministry.
After analyzing the scriptural quotations and allusions in the four canonical Gospels, Moyise examines the views of a range of key scholars—Borg, Crossan, Dunn, France, Kimball, Vermes, and Wright—and shows how their differing reconstructions of Jesus' use of Scripture inform their understanding of his historical impact and significance.
Steve Moyise is professor of New Testament at the University of Chichester. He is an international authority on the use of the Old Testament in the New Testament.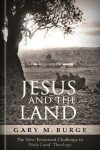 Jesus and the Land: How the New Testament Transformed 'Holy Land' Theology
Jesus and the Land will help Christians to form a biblical view about modern-day claims to the land in Israel-Palestine. Examining what the New Testament says about the idea of land being 'holy,' this guide is accessible and non-technical.
Burge's book has important consequences for Christian belief and behavior. I warmly commend this thorough and scholarly but nevertheless clearly and simply written presentation.
—I. Howard Marshall, professor, University of Aberdeen
Gary M. Burge is professor of New Testament at Wheaton College and Graduate School in Chicago, Illinois. He is active as a speaker and a writer evaluating Christian Zionism within the evangelical world.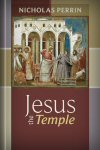 This book gives readers a fresh understanding of the life, ministry, and teachings of Jesus. It helps to narrow the gap between 'the historical Jesus' and 'the Christ of faith'.
Nicholas Perrin's latest book takes a fresh look at the concept of Jesus as temple. To do this, he reviews Jesus' relationship to the Jerusalem temple, the early Christian community's idea that Jesus is the new temple, of which his followers are a part, and how this idea may well be rooted in the teaching of Jesus himself. There is little in the book that is conventional, and readers will be surprised again and again by Perrin's creative insights and control of both primary and secondary literatures. This is a significant advance in an important area of study.
—Craig A. Evans, Payzant Distinguished Professor of New Testament, Acadia Divinity College
This is one of the few scholarly books in my memory that can turn a phrase with literary allusions ranging from Albert Schweitzer to Bob Dylan. Delightful reading and worthy of careful appraisal.
—Jeannine K. Brown, associate professor of New Testament, Bethel Seminary
Nicholas Perrin is associate professor of New Testament at Wheaton College Graduate School, Illinois. Formerly research assistant to N.T. Wright, he has taught at Biblical Seminary (Hatfield, PA) and served as senior pastor at the International Presbyterian Church in London.
More details about these resources