Power Up Your Bible Reading
Welcome to the Logos Bible app. Clean, uncluttered design and tabbed browsing make it easier than ever to compare your favorite translations, take and share notes, and build a reading plan. Answer questions on the fly at small group, or squeeze in personal study during a break. The intuitive interface makes it simple to switch between distraction-free reading and in-depth study.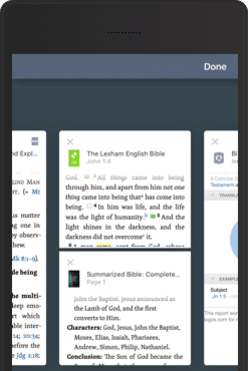 Free Your Library
No matter where you are, the Logos Bible app lets you access a carefully curated digital library of books and Bible study resources—including the Lexham Bible Dictionary, Faithlife Study Bible, and popular devotionals and commentaries.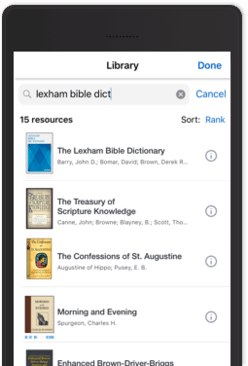 Merge Print + Digital
With Reference Scanner, you can scan one or more Bible verses from any digital or paper surface (like your church bulletin), then open the verse in your preferred digital Bible. So looking up verses is as easy as snapping a photo.
Plug in Your Tools
Go ahead and open multiple guides or switch between tabs. From Passage Guide and Text Comparison to Courses, Topic Guide, Exegetical Guide, or Bible Word Study, your tools are ready to work when you are.