Get your Free Mobile Ed Course in 2 Easy Steps
Step 1: follow the Logos Mobile Ed Lecture Hall on Faithlife.com by clicking "Follow" below.*
*If you do not already have a Faithlife account, you'll be prompted to create a free account when you click through.
Step 2: add NT344 to your cart and checkout
The course is free and no credit card is required! You'll enjoy access to the course August 1–August 31.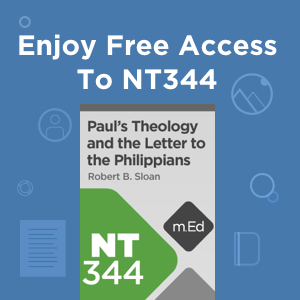 NT344 Paul's Theology and the Letter to Philippians
What were Paul's core theological beliefs? What framework did he use to organize his beliefs, and how did these beliefs relate to one another? In this course, Dr. Robert Sloan explores the theological concepts and terminology in Philippians and uses these as a window into the mind of Paul. He moves beyond a book-level understanding to understanding Paul's theology as whole.