How to Study the Bible
A Quick, Free Guide from Expert Teachers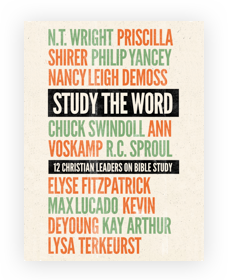 Learn the secrets of effective Bible study
Studying the Bible is essential to Christian growth, but making it a habit—or even knowing where to begin—can be tough. In this guide, 12 trusted Christian teachers reveal how they approach their own Bible study:
Kay Arthur explains why the inductive Bible study method works.
Nancy Leigh Demoss reveals how to avoid Bible study ruts.
Kevin DeYoung gives tips for carving out time for Bible study.
R.C. Sproul describes how to ignite a Bible study movement.
Priscilla Shirer outlines the five P's of effective Bible study.
And Elyse Fitzpatrick, Max Lucado, Chuck Swindoll, Lysa TerKeurst, Ann Voskamp, N.T. Wright, and Philip Yancey give you their best Bible study advice, too.
These interviews, originally published in Bible Study Magazine, are loaded with practical tips that will help make Bible study a powerful part of your daily routine.