In this week's training mailbag segment, we'll be talking about using Faithlife Proclaim alongside PowerPoint and Keynote. Whether or not the questions we answer here are yours, we'd love to hear from you! Add your questions below, and we may answer them in an upcoming mailbag segment.
1. Can I import my PowerPoint or Keynote presentation into Proclaim?
You most certainly can!
Proclaim allows you to import a slideshow from PowerPoint or Keynote as a service item or as a presentation. Regardless of which option you choose, imported Keynote files cannot be edited within Proclaim, since Proclaim imports each transition as a static image. Importing your slideshow as a series of images ensures your slides display as accurately as possible.
To import your slideshow as a presentation, click File, followed by Import Presentation, then Keynote/PowerPoint. Then select the slideshow you want to import. To import as a service item, click Add Item followed by Import Item, then Keynote/PowerPoint. Then select the slideshow you want to import.
For more information on importing your PowerPoint or Keynote presentation into Proclaim, click here.
2. Do animations come over as well?
Not exactly, but since each advance in your PowerPoint or Keynote slideshow imports as a separate image, it's quick and easy to set your transitions between images in Proclaim. You can change the transitions for all of the slides in your presentation, for all of the slides in a single service item, or for all of the transitions in multiple service items.
To change the transitions for the entire presentation, click Settings followed by Presentation.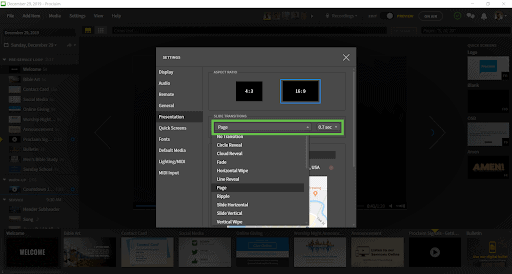 To edit transitions for service items, look out for a checkbox labeled Use no transition. Click no to expand options for slide transitions, then select your desired transition. Proclaim then adds the option to adjust the time interval. Click the number to select your desired length of time.
Click here to learn more. 
*** 
We hope this answers some of your questions about using Proclaim with presentations made using either PowerPoint or Keynote. If this raised any other questions for you, feel free to comment below! 
You can also find many answers by checking out the Faithlife Help Center or by reaching out to our Church Support Center—it's open 365 days a year.