Today's post is from Morris Proctor, certified and authorized trainer for Logos Bible Software. Morris, who has trained thousands of Logos users at his two-day Camp Logos seminars, provides many training materials.
A Logos user recently asked this question:
I'm studying the subject of heaven throughout Scripture.  Is there a way to find all occurrences of "heaven" and its variants ("heavens," etc.) without having to search for each individually?
Actually, there are several ways to locate a "family" of words in one search. Perhaps the easiest is what's called a Match all word forms search.
Here's how to set up it up:
Click the search icon.
Select Bible as the search type (

A

).
Select a Bible, such as the English Standard Version, from the resources dropdown list (

B

).
Select a range, such as the New Testament, from the verse dropdown list (

C

).
Type a word—here, heaven—in the find box (

D

). 
Choose the search panel menu (

E

).
Select Match all word forms (

F

).
Press enter to generate the search.
Notice that the results include "heaven," "heavens," and "heavenly"—all in one search! (

G

)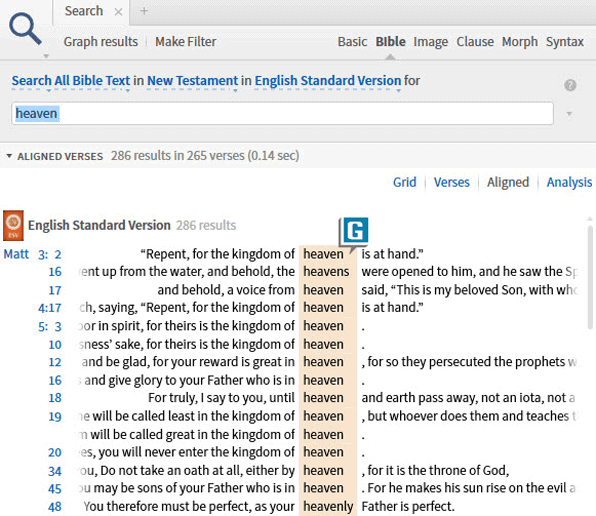 If you like this tip, check out my newest training product: Timesaving Tips for Logos. It gives you over 100 videos that will teach you the most efficient ways to implement many Logos features. Right now, it's marked down on Pre-Pub, and it's shipping soon—place your order today!