Today's blog article is based on a new Logos user's question:
I'm somewhat new to Logos, but I'm assuming there's an easy answer to my question. I'm just not sure where to look. I hear preachers and teachers all the time mention multiple Greek words for "love." How can I discover these words?
He's right! In Logos this task is very easy to accomplish with these simple steps: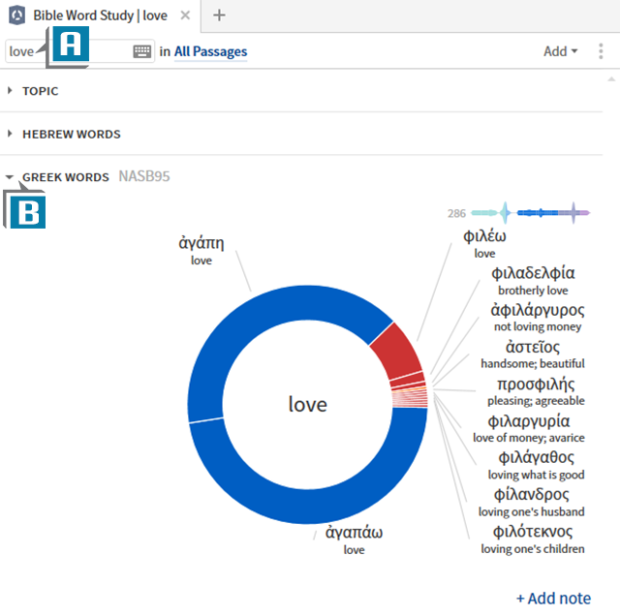 Open Bible Word Study from the Guides menu
Type love in the Word box (A)
Press the Enter/Return key to generate the results
Expand the Greek Words section which displays all of the Greek words translated with some form of love in your preferred Bible (B)
Click the Greek word or large blue section of the ring in the 6 o'clock position (C)
Notice the verses under the ring showing where this Greek word is translated love in your designated Bible (D)
Click the Greek word to the left of the numbers (E)
Notice a new Bible Word Study report opens for that Greek word so you can access your Greek dictionaries (F)
As you study each Greek word in its own separate report, you'll be able to discover the differences between all of the Greek (and Hebrew) words translated love! Obviously, you can use this same exercise for any English word you like.
For more detailed instructions about Bible Word Study, please consider a subscription to mpseminars.com where you'll find 1000's of videos to help you become proficient in both the desktop and mobile formats of Logos Bible Software!
Thanks for your feedback!