This post is from Morris Proctor, certified and authorized trainer for Logos Bible Software. Morris, who has trained thousands of Logos users at his two-day Camp Logos seminars, provides many training materials.
Shortly after His birth, Jesus was presented at the temple where Simeon told Mary this child is appointed for the "fall and rising of many in Israel" (ESV). I remember speaking on this passage a while back and was curious about the wording, "fall and rise" as opposed to "rise and fall."
Also during my sermon preparation, I noticed various Bibles translate the phrase differently including:
fall and rising (ESV)
fall and rise (NASB)
falling and rising (NIV)
fall and rising again (KJV)
falling and the rising (NRSV)
Since the phrase seemed significant, I wanted to discover everything my library said about it regardless of the specific wording. So I set up this simple OR phrase search which quickly located the information:
Click the Search icon in the upper left of the program
Select Basic as the search type (

A

)
Select All Resources from the resources to search drop-down list (

B

)
Choose the Search panel menu (

C

)
Select Match all word forms (

D

)
Place this query in the Find box: "fall and rise of many" OR "fall and rising again of many" OR "fall and the rising of many" (

E

)
Press the Enter key to generate the results (

F

)
Select By Resource to arrange the results according to the books containing the hits (

G

)

So here's what this query located:
Searching for "fall and rise of many" of course found that specific phrase (

H

)
Since Match all word forms was selected the phrases "fall and rising" and "falling and rising" were also discovered (

I

)
Because the words "again" and "the" appeared in some of the phrases, those phrases were placed in the query separately (

J

)
The OR command instructed Logos to find ANY of the phrases contained in the query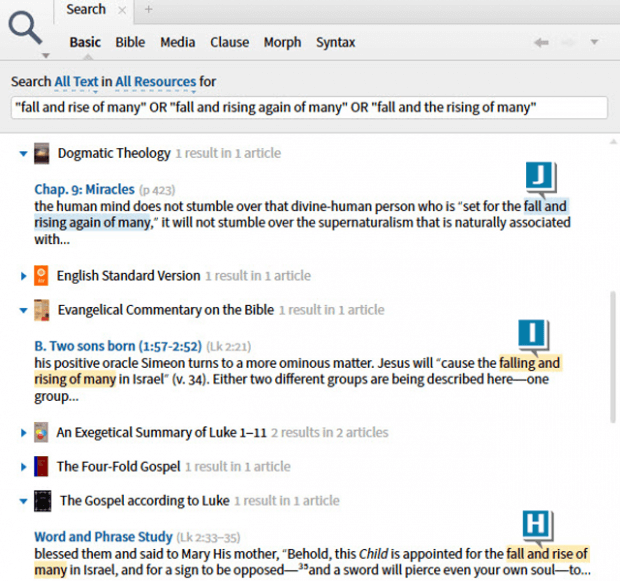 As you can see, one simple search locates all mentions of the phrase, regardless of its specific wording in any resource including Bibles, commentaries, dictionaries, and more!
***
For more training like this, check out the Logos 6 Training Manual Volumes 1 and 2 Bundle.