Insightful culture watcher David Foster Wallace says something in his famous essay on television that preachers need to hear—even though preachers probably already know it.
The staccato editing, sound bites, and summary treatment of knotty issues is network news' accommodation of an Audience whose attention span and appetite for complexity have naturally withered a bit after years of high-dose spectation. (A Supposedly Fun Thing I'll Never Do Again, 57)
Thankfully, the Christian community in America has not been affected by high doses of television. Churchgoers are constantly asking their pastors to extend their sermons by an extra hour.
No, actually not.
Preachers today face audiences who can watch YouTube videos while they take out the trash, audiences from a culture in which entertainment is treated as "the Fifth Freedom that our forefathers fought for."
In such an entertainment-saturated culture, visual presentations will never match the production values to which people are accustomed. But when done well, they help. They help people get and retain the flow of the sermon by displaying outline points, quotations, and pictures. And handouts and small-group discussion questions based on the sermon can also help people grasp and retain what they're taught.
But producing visuals and handouts is so time-consuming. I almost never use them except for special occasions.
That's why I'm so excited about Logos 7's new feature, the Sermon Editor. Here are six things Logos 7's brand new Sermon Editor does for you:
1. Sermon Editor makes slides automatically
Sermon Editor automatically generates slides based on the text you type.
Watch: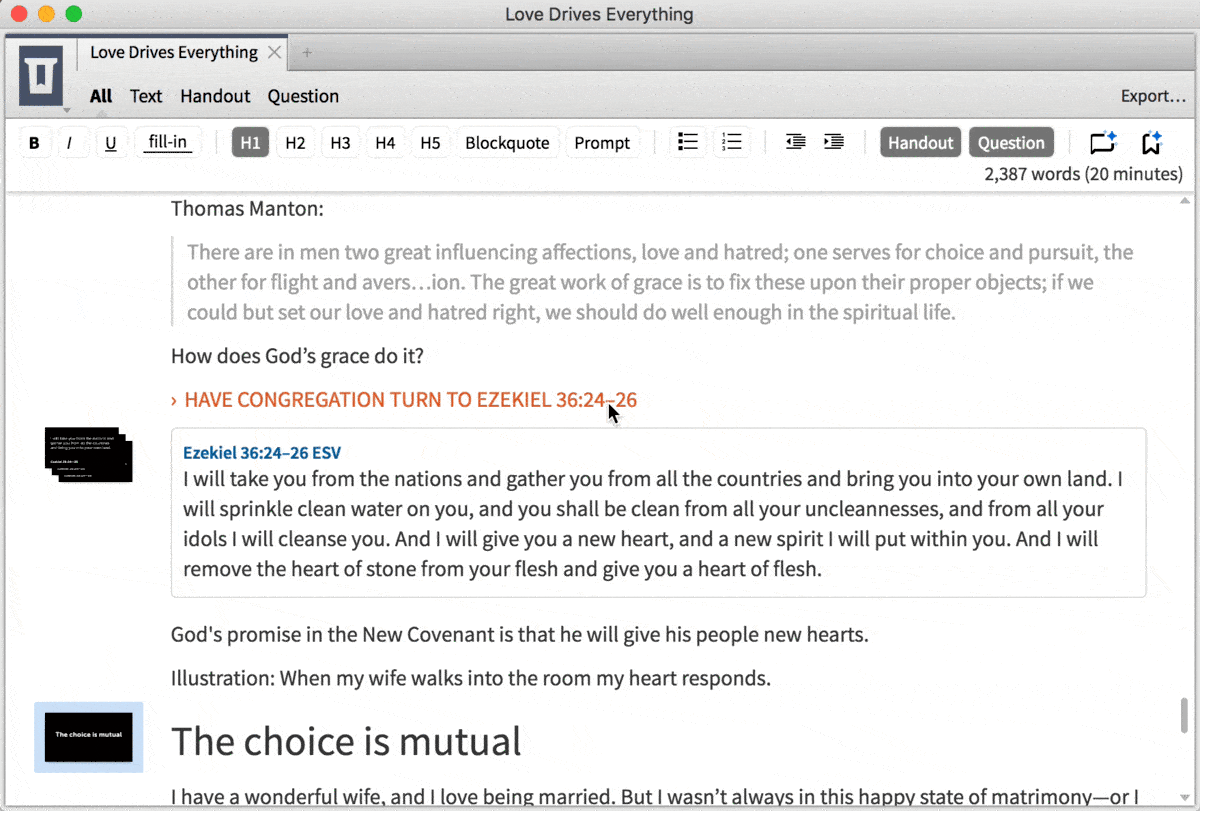 Type an outline heading, and Sermon Editor creates a new slide. And if I want to incorporate a favorite quote into my presentation, I just highlight a block quote, click a button, and Sermon Editor automatically creates and formats my slide. It also produces a slide automatically whenever I automatically pull in a biblical reference (see next point).
This is what sportscasters at major international Bible software competitions call a "game changer."
2. Sermon Editor inserts verse text automatically
Let's talk about inserting verse text. You've just got to see this. Any time you place a Scripture reference on its own line and hit enter, Sermon Editor copies that verse from your preferred Bible into your sermon:
For me this is huge. I want this functionality in all my word processing apps, now! I personally have needed this tool, if my math holds, upwards of 10,000 times in the last ten years as a writer and preacher. This is a need I've known very well and I have used at least four other software tools that promised—and, in various ways, failed—to meet that need. None was as easy or elegant as Sermon Editor. Until the day computers read our minds or write our sermons for us (and don't wish for that day; people will be able to send computers to church for them, too), it's never going to get easier than this to put verses in your sermon notes and slides.
3. Sermon Editor makes handouts and review questions automatically
I preached weekly for five years while working a full-time job and (for part of that time) working on a dissertation and welcoming newborns. I know "busy." So I have always admired from afar Bible teachers who put in the extra time necessary to make handouts. I know that a lot of listeners really profit from the exercise of filling in blanks, and yet my time limitations (and, to be honest, my obsessive and time-consuming care for typographical beauty) have kept me from doing it very often.
Sermon Editor to the rescue again, with a solution that never occurred to me: just select some text, turn it into a question, and it populates a list of questions you can print off easily when your sermon is done. Turn some text into a fill-in-the-blank, and you start generating your own handout. The handouts document and questions document also includes headings from your sermon, so people will have extra help following along.
4. Sermon Editor files and organizes your sermons automatically
I have always prided myself on my computer filing systems, and yet the way I file sermons has always felt wrong to me. Do I organize by date? By audience? By Scripture passage? By topic?
To be able to keep all my sermons in one searchable place is very attractive. To be able to tag them by topic is helpful, too, because I never know when I'll be called upon as a preacher to give a devotional on a specific topic.
Every time you start a new sermon in Logos, you can tag it with key criteria like name, date, location, topic, Scripture passage, etc. This information is stored with your sermon in the cloud, a magical place you may have heard of where files never get lost and are always available.
That means that you can find your sermons and, as we'll see, so can others.
5. Sermon Editor sends your work to your team
Once you've finished writing your sermon and creating your slides, you can export them to PowerPoint as static images and then send them to your team—or, with Proclaim, you can automatically place your sermon visuals in the presentation your team—a secretary, a sound guy, a worship leader, whomever—is already working on. Your team can then edit your slides in Proclaim to make them fit with the rest of Sunday's presentation. Proclaim will also automatically create a digital bulletin so people can follow along with your sermon online.
6. Sermon Editor publishes your sermon to the world
One of the reasons to fill out the descriptive information carefully is that, with a click, you can now publish your sermon to SoundFaith and Faithlife groups. If you already publish your sermons to SoundFaith and use Proclaim, people in your church will be able to hear your sermon, see your slides, read your notes or manuscript, and access your questions and handouts, all online.
Conclusion
I preach and teach regularly at my own church, and I plan to use Sermon Editor. I was very impressed when I first got to play with this feature; it felt like a tool made by preachers (preachers with amazing software development chops). I haven't told you everything Sermon Editor can do, but it's not really complicated. These other feature will all make intuitive sense to preachers:
Sermon Editor adds prompts (like "Have congregation turn to Matt 22:34" or "Recite creed").
It exports to Proclaim, PowerPoint, and PDF.
I don't want my Bible software doing everything for me; I enjoy studying and finding illustrations and making outlines. That work is how I learn the Bible better. It's one of the best parts of my calling. But I do like the idea that Sermon Editor will help me focus on that work, that calling, by doing busywork for me: creating slides, inserting verse text, handouts, filing, and publishing—automatically.
***
Sermon Editor is included in Logos 7 Bronze and above. To get a personalized base package recommendation and take advantage of limited-time introductory discounts, visit us online or call us at (888) 670-3148.