Mobile Ed: John Fuder Urban Ministry Bundle (3 courses)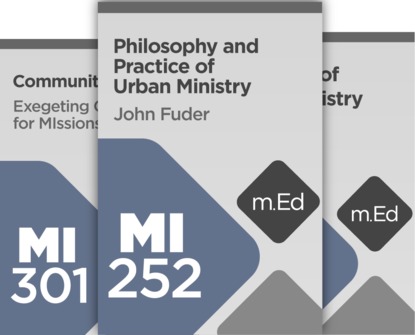 Mobile Ed: John Fuder Urban Ministry Bundle (3 courses)
•
Runs on Windows, Mac and mobile.
Overview
There is tremendous opportunity for the body of Christ to be engaged in urban ministry around the world. Dr. Fuder offers over 20 years of urban ministry experience, and his work focuses on understanding the culture of the city, which helps the church to understand its context and to find ways to serve the city more effectively. Discover God's heart for the city through Scripture, and apply Dr. Fuder's practical principles to your ministry as you engage with the diverse populations that occupy today's cities.
Individual Courses
Roughly half of the people on the planet today live in globalized cities with populations of 100,000 or more. God's heart beats for the nations, and Scripture is filled with narrative about cities—well over a hundred cities are specifically mentioned in the Bible. Explore God's heart for the city from Genesis to Revelation, and discover God's love for all people. Focus on being Christ centered by loving your neighbors and getting involved in your neighborhood. Find ways to practically love your neighbors and be involved in ways that demonstrate great love and compassion for those who are on your doorstep.
Contents:
Unit 1: Old Testament

Needs for a Theology of Urban Mission
Snapshot of Sodom (Gen 18)
Eleven Poorology" Principles
What Is Poverty?
Three Main Causes of Poverty
Models of Faith in Hostile Society: Joseph
Models of Faith in Hostile Society: Moses
God's Heart for the Alien in the Pentateuch
Engaging the Community (Num 13–14)
Models of Faith in Hostile Society: Gideon
Hope in the Midst of Trials (2 Chron 20)
Models of Faith in Hostile Society: Nehemiah
Models of Faith in Hostile Society: Esther
Prayer for the Shalom of the City (Psa 122)
God's Heart for the Oppressed in the Psalms
God's Heart for the Poor in Proverbs
A Theology for the Streets (Isa 58)
God Is Building a City (Isa 65)
Seeking the Welfare of the City: Babylon (Jer 29)
The Mandate of Shalom
Models of Faith in Hostile Society: Daniel
God's Heart for Justice in the Prophets
Levels of Doing Justice
A Compassionate Cry for the City:Nineveh (Jonah 1–4)

Unit 2: New Testament

Following Jesus to the City
Jesus and the Poor/Marginalized
Jesus-Our Model in Reconciliation- John 4
A Spirituality for the City- Mark 1
Cities as Focused on the Early Church
A Glimpse of Greco-Roman Cities
Lessons from the Early Church-Committed to Community- Acts 2
Cultivating an Evangelistic Lifestyle
The Community of the Early Church/Living Conditions in Greco-Roman Cities
The Response of the Early Church
The Appeal of Early Christianity/The Urban World of the Apostle Paul
The Church at Antioch: A Case Study in Urban Ministry
First and Second Century Urban Ministry Parallels and Principles
A New Testament Theology of Doing Good
A Tale of Two Cities/Urban Lessons from the Philemon Story
God's Holy City: The New Jerusalem
Build from the foundation of the biblical material that speaks about God's heart for the city, and apply this to ministry in the city. Examine urban communities in the U.S. and overseas, and incorporate effective postures and practices of hands-on, engagement to your ministry.
Contents:
Strategic opportunity of cities for the church / Trends and statistics of global urbanization
Paul: The Great Urban Apostle / The church sent on mission to the city
Selected Scriptures on servant hood, brokenness, and humility / Quotes on sacrifice and brokenness / God gives us tears for the city / The need for wounded healers
Biblical Principles on Compassion
Definition and authority of compassion / The compassion continuum
Informed by and covered in prayer
Praying for impact on the streets / The Investment of Prayer
Insights on incarnational ministry / The awkward impediment of our stuff / Five roles for community entry
Becoming an insider
True Friendship / Caseworker- converts-comrade / The key elements of relocation
Reimagining relocation
Biblical principles of reconciliation / Key elements of racial reconciliation
Roadblocks to effective urban ministry / The fortress Mentality
Eight characteristics of cities / Nine marks of city-center culture
Posture of the church in the city
Felt need concept / Why address felt needs?
The social currency of the Gospel / Five Perspectives on evangelism and social concern
Holistic discipleship / The hole in our gospel
Basic values dimensions / What does God what with communication?
Top 10 skill sets to exegete a culture
The priority of networking / Questions for networking a community ministry
The wheel of ministry / The marks of an authentic church
New faces of the church / What makes a church missional?
Why is church-planting so important?
Learn to diagnose needs in a local community and to discover some of the felt needs in a neighborhood. Begin to think biblically and missionally about ways that a church or group of churches could be involved in responding to the needs in that community. Understand what the Scripture says about applying it to your life in a manner that is relevant to your church and community.
Contents:
How Relevant is your church (part 1)
How Relevant is your church (part 2)
Top Ten Tips to Exegete a Culture
The "What"
(D+Rx) HW + PG = Changed Church/Community
The "Why"
Steps to Prayer-Walking
Case Study "our cities cry to you"
The "Who"
Becoming an Insider
Application Question on Becoming an Insider
The 'Where"
The "Where": Application
Case Study
The "When"
Application Implications (part 1)
Application Implications (part 2)
Application Implications (part 3)
The "How" (How do we do community analysis?)
So What?
Mobilizing our Youth
Practical Application (part 1)
Practical Application (part 2)
Practical Application (part 3)
The Life History Interview (part 1)
The Life History Interview (part 2)
The Life History Interview (part 3)
Survey Best Practices (part 1)
Survey Best Practices (part 2)
Felt Needs of a Community and Attitudes Toward the Church
Learning a Neighborhoods Beliefs and Worldviews
Sample Survey: College Campuses
Ethnography Ministry Recomendations - Example
Product Details
Title: John Fuder Urban Ministry Bundle (3 courses)
Instructor: John Fuder
Publisher: Lexham Press
Publication Date: 2015
Product Type: Logos Mobile Education
Resource Type: Courseware, including transcripts, audio, and video resources
Courses: 3
Video Hours: 15
About John Fuder
Dr. John Fuder is the director of Justice and Compassion Ministries at Re:source Global and the director of city engagement for Park Community Church in Chicago. Dr. Fuder served in urban ministry for 15 years in California, and was professor of urban studies at Moody Theological Seminary in Chicago for 17 years. Currently, Dr. Fuder is teaching, training, and coaching the broader body of Christ to engage more deeply in contextualizing the Gospel in their local communities.
Getting the most out of Mobile Ed
Logos Mobile Education is a highly effective cross-platform learning environment that integrates world class teaching with the powerful study tools and theological libraries available in Logos Bible Software. Every course provides links to additional resources and suggested readings that supplement the lecture material at the end of every transcript segment.
All courses in this bundle come with an Activities resource that functions as a type of "workbook" for the courses. This resource includes learning activities such as: places for you to respond to reflection questions, exercises that will challenge and show you how deepen your understanding of this course by using specific Logos tools and resources, tutorial videos on different features of Logos Bible Software, and links to relevant Logos guides and tools. A link to open the Activities resource is conveniently placed at the end of every segment.