In a Pit With a Lion On a Snowy Day: How to Survive and Thrive When Opportunity Roars (audio)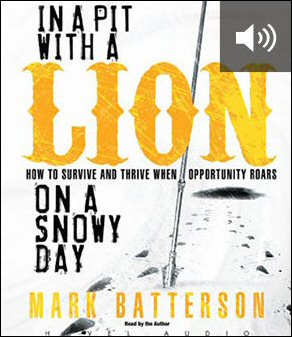 In a Pit With a Lion On a Snowy Day: How to Survive and Thrive When Opportunity Roars (audio)
•
Runs on Windows, Mac and mobile.
Overview
Have you ever been in the wrong place at the wrong time . . . several times? These memories leave you with an ill taste in your mouth, and nothing good seems to come from them. But what if the seemingly messy pieces of your life were actually strategically positioned by God? What if you've actually been in the right place at the right time every time?
In a Pit with a Lion on a Snowy Day will help you make sense of your past. You'll begin to connect the dots to see clearly how God has been preparing you for future opportunities. With a God's-eye perspective, you'll soon be thanking Him—even for lions, pits, and snowy days.
Key Features
Discusses how to reframe problems as opportunities
Examines the process of reflecting on the past to answer current difficulties
Offers a message of hope and courage in the face of despair
Contents of Print Edition
Locking Eyes with Your Lion
The Odd Thing About Odds
Unlearning Your Fears
The Art of Reframing
Guaranteed Uncertainty
Playing It Safe Is Risky
Grab Opportunity by the Mane
The Importance of Looking Foolish
Unleash the Lion Chaser Within
Product Details
Title: In a Pit with a Lion on a Snowy Day
Author: Mark Batterson
Narrator: Mark Batterson
Edition: Unabridged
Publisher: christianaudio Hovel
Print Publisher: Multnomah Books
Runtime: 5.5 hours
Product Type: Audiobook
Topic: Leadership
About Mark Batterson
Mark Batterson serves as lead pastor of National Community Church in Washington, DC. One church with seven locations. NCC is focused on reaching emerging generations and meets in theaters throughout the DC metro area. NCC also owns and operates the largest coffeehouse on Capitol Hill. Mark holds a doctor of ministry degree from Regent University and is the New York Times bestselling author of 10 books, including The Circle Maker, In a Pit with a Lion on a Snowy Day, Wild Goose Chase and most recently, All In.
More details about this resource