Select Works of Franz Delitzsch (2 vols.)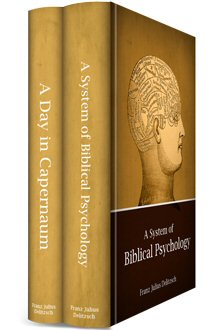 Overview
As a reputable German Lutheran scholar, Franz Delitzsch wrote a number of theological works that presented fresh perspectives, intriguing ideas, and entertaining understandings of Scripture. Included in the Select Works of Franz Delitzsch are A Day in Capernaum and A System of Biblical Psychology.
A Day in Capernaum provides a fascinating, insightful re-creation of a day Jesus spent in Capernaum. Delitzsch draws from the oldest Hebrew literature and the best scholarship available to present a factually based, imaginative account of a day in Jesus' ministry.
In A System of Biblical Psychology, Delitzsch examines the psychology that drives the Bible, providing an overview of biblical psychology as well as his own fresh contributions to the field. This thought-provoking text emerged from nearly 40 years of work and his analysis of key biblical distinctions between soul and spirit.
With the Logos edition of the Select Works of Franz Delitzsch, these texts integrate with your library to become valuable tools. All Scripture references appear on mouseover in your preferred translation. Read A Day in Capernaum side-by-side with the Gospel accounts to experience the ministry of Jesus from a fresh perspective. Use the Topic Guide to instantly gather all relevant materials in your library as you study A System of Biblical Psychology to see what scholars are saying today about the soul and the spirit. Use the Logos mobile app to take these resources with you wherever you go.
Key Features
An imaginative re-creation of a day in Jesus' ministry
Clarification of both the unity and distinctions of soul and spirit in the Bible
An interpretive system for processing the psychology within Scripture
Individual Titles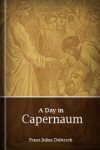 In A Day in Capernaum, Franz Delitzsch uses the earliest Jewish accounts of Jesus and the Gospel to imagine what it would have been like to experience his ministry. The intent was to provide a picture of intimacy with Jesus that reflects the character of Christ seen in the Gospels. The text recreates the journey to Capernaum from Jerusalem, Jesus' healing of the paralytic let down through a house roof, a conversation with Mary, and ends with Jesus speaking to the multitudes on the Sea of Galilee. The text also includes a sketch of Franz Delitzsch's life and work provided by the translator.
Delitzsch is a Christian, a scholar, and a poet. These three leading features of the almost myriad-minded Leipzig professor are most harmoniously blended in the volume here translated . . . it is reverently imaginative, historically informing, geographically illuminative.
—The Missionary Review
Every page is marked by grace and beauty. . .
—The Central Christian Advocate
Readers who have been charmed by descriptions of persons and holy places in Ben Hur will find in this book something vastly more entertaining and certainly more instructive.
—Public Opinion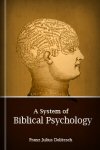 A System of Biblical Psychology builds off of nearly 40 years of work and Delitzsch's dissertation on the elements of the nature of man, particularly "whether the soul, so far as it is distinguished from the spirit, belongs by its nature to matter or to spirit." The text addresses ideas and concepts Delitzsch discusses in his other books, but emphasizes the distinctions between soul and spirit found in Scripture. Recognizing and comprehending the simultaneous unity and distinctions between soul and spirit, he believes, is essential to understanding the psychology of Scripture. Delitzsch provides a thorough introduction to understanding biblical psychology and a multitude of daring ideas.
Prolegomena
The Everlasting Postulates
The Creation
The Fall
The Natural Condition
The Regeneration
Death
Resurrection and Consummation
. . . A mine of wonderful depth and fertility . . .
—Reverend Robert Ernest Wallis, senior priest-vicar of Wells Cathedral
This admirable volume ought to be carefully read by every thinking clergyman . . . we know no work which is better calculated as a guide to minds already settled on lines of sound theological principle, than [A System of Biblical Psychology].
—Literary Churchman
However different the psychology of the present day may be from that which Professor Delitzsch finds in the Bible, it cannot be denied that his work is both suggestive and helpful to all students of man, and to all students of the Scriptures, but especially to students of both.
—Freeman
For profound acquaintance with the letter of Scripture, interpreted by a spirit of rare metaphysical acuteness, we suspect Dr. Delitzsch's treatise on Biblical Psychology has few parallels in modern theology.
—London Review
Product Details
Title: Select Works of Franz Delitzsch
Author: Franz Delitzsch
Translators: John Gottlieb Morris and Robert Ernest Wallis
Publishers: The Lutheran Board of Publication and T&T Clark
Volumes: 2
Pages: 883
About Franz Delitzsch
Franz Julius Delitzsch (1813–1890) was a German Lutheran theologian and Hebraist. He was a professor of theology at the University of Rostock from 1846 to 1850, at the University of Erlangen until 1867, and then at the University of Leipzig until his death. He is most known for translating the New Testament into Hebrew. To this day, the translation remains the standard Hebrew New Testament and a mark of Delitzsh's compassion for the Jewish people. Throughout his life, Delitzsch defended and advocated for the Jewish community, and in 1880, he established the Institutum Judaicum in Leipzig to train missionaries to work among Jews. He also wrote a number of commentaries.
More details about these resources