If you're using the Sermon Builder to create your sermons/lessons (which I hope you are), then you'll really appreciate this new Logos 9.1 feature: a Home Page Dashboard Sermon Card to quickly access your upcoming sermon(s).
Let's quickly check out this 9.1 change:

Click the Home icon in the upper left of the program to open the Home Page (A)
Notice the new Sermon card with a link to your next sermon based on the occasion date in the sermon information (B)
Click the sermon title to open it in Sermon Builder (C)
Click See next to cycle through your next few sermons again based on the occasion dates in sermon information (D)
If the Sermon card does not appear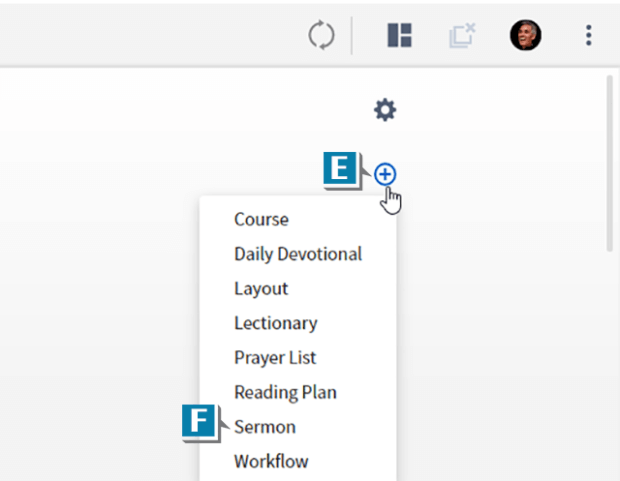 Click the plus sign (+) in the upper right of the Dashboard (E)
Click Sermon (F)
Click Add in the lower right of the window that appears
If you have not yet created a Sermon document
Notice the Sermon card links you to Sermon Builder so you can create one (G)
For more detailed training about all new Logos 9 features, check out a subscription at mpseminars.com, which includes approximately 220 videos on Logos 9 alone!
Also, make sure to view at your convenience the FREE QuickLook at Logos 9 webinar. During this 80-minute webinar, I'll introduce you to all the Logos 9.0 changes!