Now you can simultaneously read and listen to the New Testament using the Lexham English Bible's New Testament audio read-along feature for PC, Mac, iOS, and Android devices!
Audio New Testament for PC and Mac
The Lexham English Bible's New Testament is now available as a free audio read-along resource. The Lexham English Bible is a standard resource included with each base package purchase. If you don't yet own a base package, you can add this Bible to your library—free.
Audio New Testament for mobile
The free Logos Bible app for iOS and Android comes loaded with several Bible translations, books, and study features. When you download the Logos app and create an account, you get access to even more free resources—69 total. One of the included resources is the Lexham English Bible (LEB), with the new free audio read-along.
This new feature will briefly display a circle at the start of each verse (as you pass it) to help you keep your place. Listen to your Bible as you read, pause to highlight a verse and compose a Community Note, and press play to continue reading and listening. Take your Bible study with you throughout the day—listen to the LEB New Testament on your way to work, during lunch, while out for a jog, or while you're cooking dinner. Download each chapter of the LEB New Testament, one at a time or all at once. With the crisp audio, you'll be able to listen to the Bible all day long, on the go—no matter where you are.
How to activate the audio New Testament
To enable the audio read-along for PC or MAC, simply update Logos or download the free standard LEB. Once you own the LEB, the audio LEB-NT will activate automatically in your library.
If you already have the Logos Bible app on your tablet or phone, simply update your app to unlock the LEB New Testament's read-along feature. And since you already use the app, tell your friends about it—they're sure to enjoy it, too. If you're new to Logos or you haven't downloaded the app yet, visit the iOS app store or Google Play and add the Logos Bible app today.
How to use the read-along feature on PC and Mac:
Open the LEB.

Click on the product info icon to select "Marv Allen" or "System Narrator."
To play either, press Ctrl+R.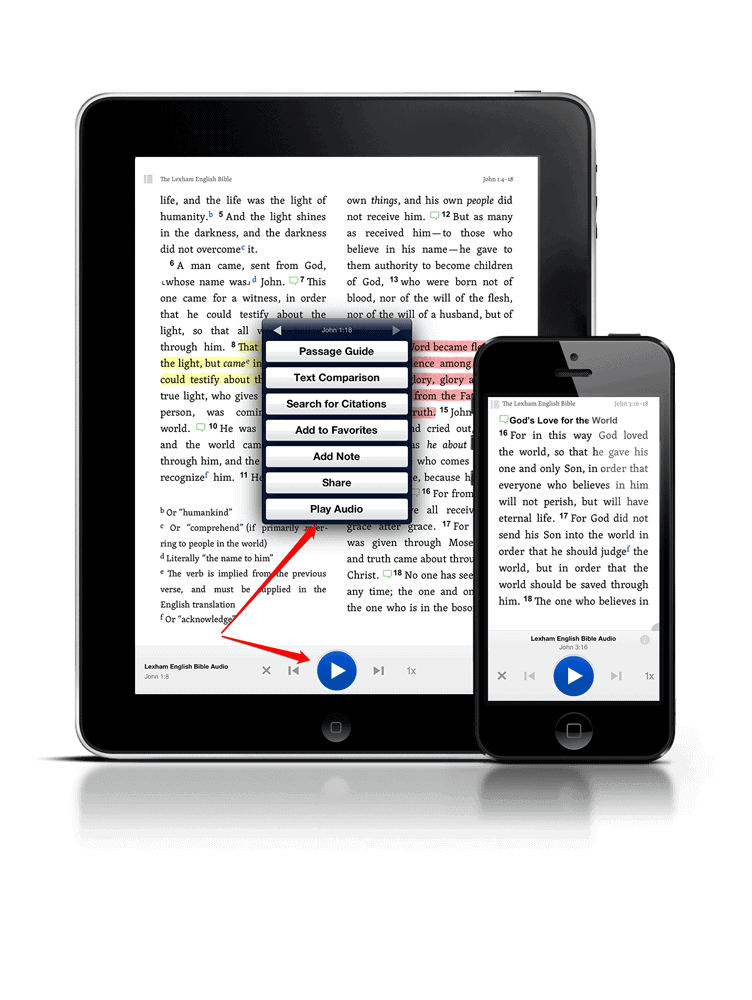 How to use the read-along feature on iOS and Android:
Open the Logos app.
Under "Library," search for "Lexham English Bible."
Find a verse in the LEB New Testament.
Swipe up the page while in Read mode.
Select "Play Audio."
Learn more about the Logos Bible app today!
How will you use the read-along feature? Let us know in the comments.