Lexham English Bible (LEB)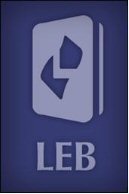 Lexham English Bible (LEB)
•
Overview
The LEB is a new translation of the Bible into English. It clearly communicates the meaning of the original languages and gives you a clear English translation, and shows you how it gets there. It is one of the components in a suite of resources from Lexham Press which connect the original language texts to formal translations.
Why a new translation?
New translations of the Bible emerge from a quest for greater accuracy, from new scholarly discoveries in linguistics and semantics, from recent advances in lexicography, from new archaeological discoveries, and from a greater understanding of the evolution of the English language. In the case of the LEB, the answer to this question is much simpler.
First, the LEB achieves an unparalleled level of transparency because the LEB has as its starting point the Lexham Greek-English Interlinear New Testament, available separately from Logos Bible Software.
Second, the LEB makes extensive use of the most up-to-date lexical reference works available, Frederick Danker's A Greek-English Lexicon of the New Testament and Other Early Christian Literature (BDAG) and Louw and Nida's Greek-English Lexicon of the New Testament based on Semantic Domains.
How can I trust it?
The Lexham English Bible, used with an interlinear, reveals the entire translation process. Follow the path from the original language, to the interlinear, to the English translation, and then back again with a reverse interlinear. You'll never find yourself wondering why the LEB translates a word or phrase a certain way. Identify idioms. Discover the tricky texts. See the difficult lexicographical choices. It's all right there.
The entire translation process is focused and transparent. It was developed through an interlinear process using Logos Bible Software. At any point, you can work from the original languages to the LEB, or from the LEB back to the original languages.
The LEB closely follows the original while remaining readable in contemporary English. The style of the translation is relatively literal, which stems from the desire to have the English translation correspond transparently to the original language text. The translators attempt—within these constraints—to produce a clear and readable English translation instead of a woodenly literal one.
Some words and phrases are difficult to translate, and the LEB is careful to mark these instances:
Supplied words are noted with italics. These are words in English implied by English style or structure, or they are grammaticalized from the original language. They may not be found in the original language, but are needed for a sentence to make sense in English.
Idioms are noted with corner brackets. Words and phrases that don't convey the meaning when translated literally are idiomatic, and with the LEB you can easily identify them.
Every time the LEB encounters a difficult word or phrase, you'll know—and you'll be able to dig deeper behind the translation itself to find the meaning in the text of the original language.
More details about this resource