I jokingly tell participants who attend Camp Logos, "Logos Bible Software will do everything but wash your dishes!" It really is that powerful. From building a Passage Guide report to searching your Library for a concept to in-depth original language work, Logos is here to help.
But what if you don't need all that power every day? For example, I have a friend who simply wants to look up Hebrew and Greek words in his favorite dictionaries. Well, if you're like my friend, today's tip is for you.
A new, small feature in Logos 7 provides instant access to your favorite Hebrew and Greek lexicons right from an English Bible!
Try this:
Open a Bible with the reverse interlinear option such as the ESV (

A

)
Navigate to any verse such as 2 Timothy 4:1 (

B

)
Type "Lexham Wordbook" in the Command box and press the Enter key to open the Lexham Theological Wordbook (

C

)
Choose, one at a time, the panel menu on each panel (

D

)
Select Link set A for each resource (

E

)
Click a word in the biblical text like "charge" (

F

)
Notice the Wordbook jumps to an article for the Greek lemma translated charge (

G

)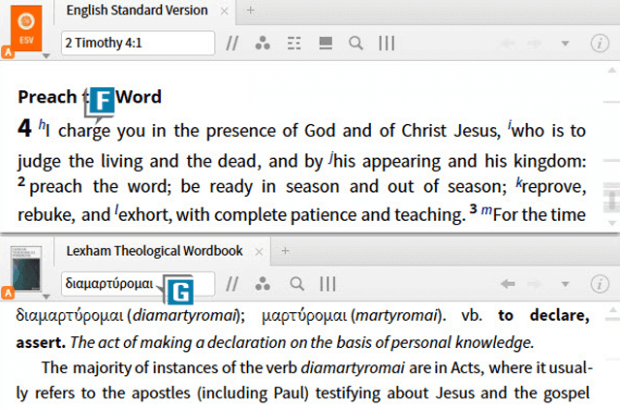 Click a different word in the biblical text like "kingdom" (

H

)
Notice again the Wordbook looks up the underlying lemma (

I

)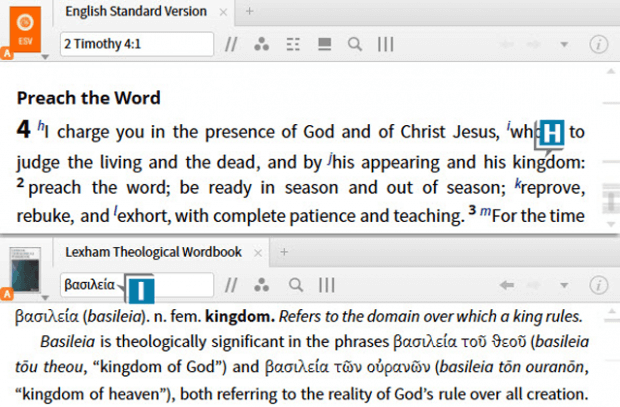 Looking up words in dictionaries has never been easier! This feature works any Hebrew and Greek dictionary, so try linking your favorite Bible translation to a few different lexicons until you find the combinations you like best! Also, don't forget to save this as a Layout if you plan to utilize this setup a lot.
***

Morris Proctor is a certified trainer for Logos Bible Software. Morris, who has trained thousands of Logos users at his two-day Camp Logos seminars, provides many training materials.