This week's post is centered on the following question I received from a Logos user:
I'm hoping you can help me with a frequent task: finding which Greek words (LXX) are used to translate a particular word in the Hebrew text. I'd like to know, for example, what Greek words the scholars chose to use in the LXX for "hesed," which is so rich in meaning.
Even though not every Logos user will need this tip, the feature in the answer is a good trick to know if you venture into the original languages.
Using the above question as an example, try this:
Open an English Bible, containing the interlinear option, such as the NASB (A)
Navigate to a passage, containing the Hebrew lemma hesed, such as Exodus 20:6 (B)

Right click on the English word lovingkindness (NASB) (C)
Select from the right side of the Context menu the Hebrew lemma hesed (D)
Select from the left side of the Context menu Bible Word Study (E)

Navigate to the Translation section which is displaying the Hebrew lemma in the center of the ring (F) along with how it's translated in the English Bible around the ring (G)
Rest the cursor on the Translation section title bar (H)
Click Settings on the far right of the bar (I)
Select a LXX text (Septuagint) such as Logos LXX (J)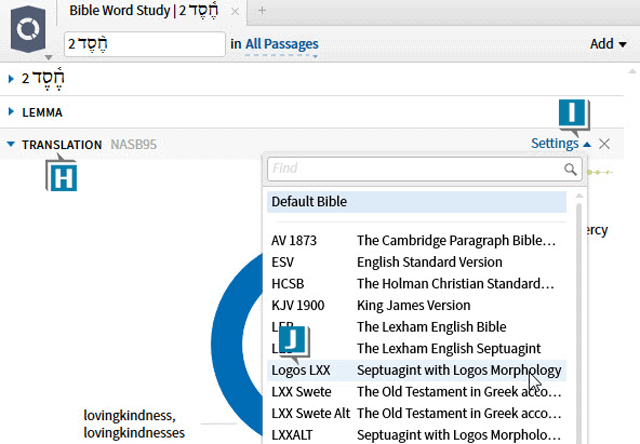 Notice around the ring are now Greek words showing how the Hebrew lemma is translated in the Greek translation of the Hebrew Old Testament (K)
Click a Greek word on the outside of the ring to display places in the LXX where that Greek word is the translation of hesed !(L)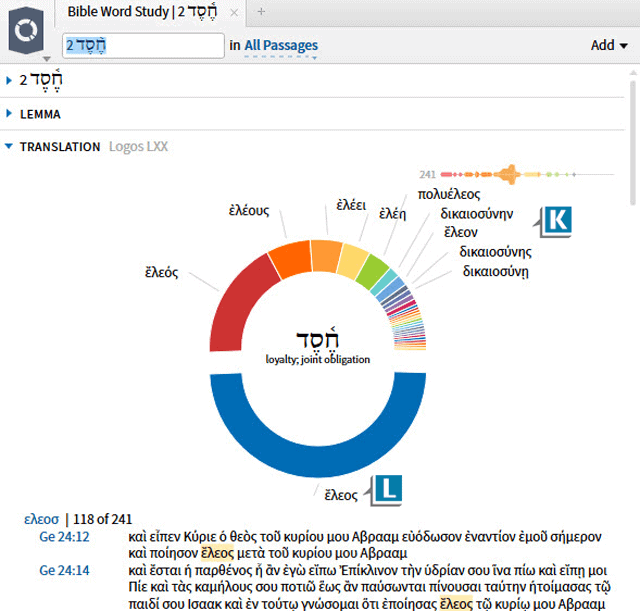 For more detailed information about Bible Word Study and working with the original languages, please check out the Logos 7 Bible Software Training Manual Bundle available in both print and digital formats.
Also, for an exciting and quick way to learn the software, attend an upcoming Camp Logos in Baltimore/Columbia, MD May 2 – May 4 or Camp Logos Colorado Springs, CO May 22 -24!

Morris Proctor is a certified trainer for Logos Bible Software. Morris, who has trained thousands of Logos users at his two-day Camp Logos seminars, provides many training materials.
Thanks for your feedback!