Today's post is from Morris Proctor, certified and authorized trainer for Logos Bible Software. Morris, who has trained thousands of Logos users at his two-day Camp Logos seminars, provides many training materials.
My favorite new feature in Logos 5 is probably the tagging of referents in the reverse interlinear. Here's what I mean. Suppose you want to conduct a thorough biographical study of Timothy, so you search the Bible for every occurrence of the word Timothy. This, of course, finds the word Timothy, but what if he's referred to as brother, disciple, or son? A simple word search doesn't find these references—until now in Logos 5.
A Logos research team has manually tagged the BIble's pronouns and linguistic expressions, pointing them to the correct people, places, and things. Three cheers for this team! This means you can now find all references to the man Timothy, regardless of the words used.
Here are a couple of ways to see this incredible tagging in action:
Biblical People
Choose Tools | Bible Facts (Biblical People, Places, and Things have been combined into one tool).
Type Timothy in the reference box.

(A)

Select Timothy from the dropdown list to generate the report.
Notice, in the left sidebar (which replaces the top ribbon in Logos 4), the section called Referred to As.

(B)
Referred to As displays all the references to the man Timothy, not the word Timothy.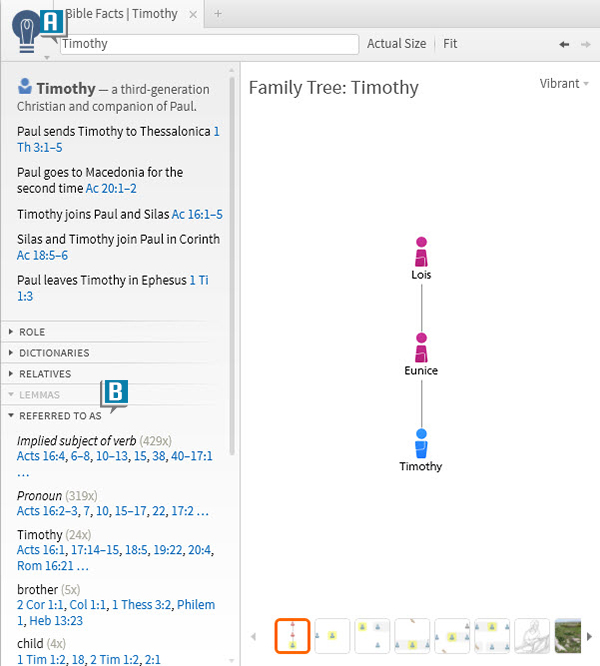 Clause Search
Click the Search icon.
Select Clause 

(A)

as the search type.
Select All Passages 

(B)

and the Lexham Greek-English Interlinear 

(C)

from the dropdown lists.
Select Person Anywhere in Clause 

(D)

from the examples list to place that search string in the Find box.
Change, in the Find box, the word Moses to Timothy

(E)

.
Press the Enter key to generate the search.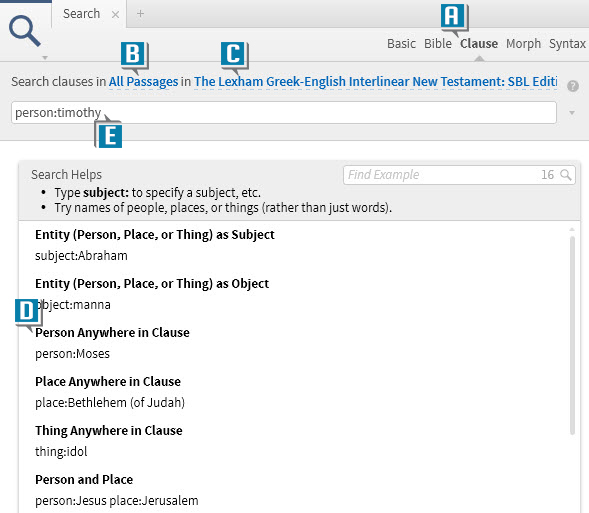 Again, here are all the verses that mention the man Timothy, not the word Timothy!