For many years, we've been able to conduct a case sensitive search in Logos. With the release of Logos 10, that search is now easier.
Let's imagine we want to locate the places in Paul's writings where our specific Bible translation contains the word spirit, as opposed to Spirit.
Here's all we have to do: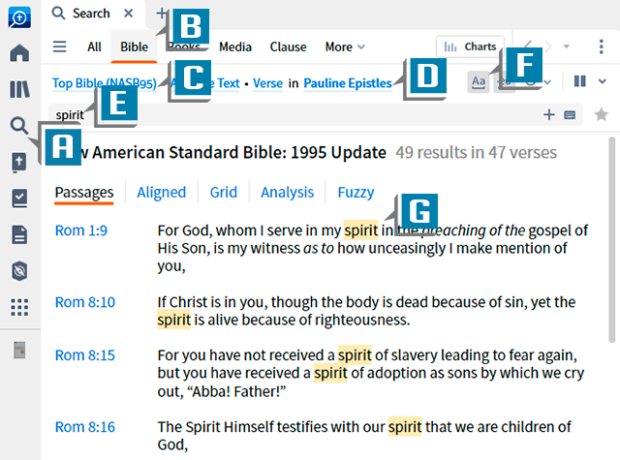 Click the Search icon on the toolbar whether your toolbar is in the default position on the left or you've relocated it to the top (A)
Select Bible as the search type (B)
Select Top Bible (formerly called preferred Bible) from the Bible to search drop-down list (C)
Select Pauline Epistles from the verses to search drop-down list (D)
Type spirit (with lowercase "s") in the Search box (E)
Click the new Logos 10 Match case icon in the upper right of the Search panel (F)
Notice the search results contain only the word spirit when it appears with a lowercase "s" (G)
Of course, you can place Spirit in the Search box to find all the occurrences of the word when it's capitalized!
This is but one of many changes and improvements made in Logos 10. To see more Logos 10 changes in action you can watch a replay of the MP Seminars' one-hour webinar, "What's New in Logos 10″ whenever its convenient for you!
During our time together I'll introduce to all of the exciting new changes in Logos 10, such as:
Simplified Searching
Advanced Timeline
Print Library
Auto-Translator
And more!