As you've probably heard, Logos 7 is here! And it's packed full of new features and tools!
I'm honored that the folks at Faithlife have asked me to write blog posts about my favorite seven new features in Logos 7. With all the great new enhancements, picking out my top seven is no easy task, but I'll give it a go. So for the next several blog posts, I'll focus on these new features and tools:
Linking a Bible to Bible Word Study

Custom Home Page Layouts

Corresponding Words

Corresponding Highlights

Concordance

Sermon Document

Names of God Interactive
One of the most important aspects of Bible study is examining individual words in a passage. Toward that end Logos supplies the very powerful Guide, Bible Word Study. I've always quickly accessed it by right clicking on a word in the biblical text, then selecting the underlying lemma from the context menu, and finally choosing Bible Word Study on that same menu. This has been a habit in my personal exegesis for years. Perhaps you've done the same.
If so, you've noticed each time you select Bible Word Study you get a new Bible Word Study tab to open. Study 10 words? Get 10 Bible Word Study reports open. Please don't get me wrong, multiple tabs were a small personal inconvenience compared to the ease and speed of opening the Guide. I really didn't mind.
In the newest version, however, the developers of the software have outdone themselves. No more right clicking on words to get to Bible Word Study and no more multiple copies of the Guide. Give this a try in Logos 7:
Open a Bible with underlying lemmas, such as an English Bible with the reverse interlinear option (

A

)
Next, open Bible Word Study from the Guides menu
One at a time, choose the panel menu on each panel (

B

)
Select the same link set letter for each resource (

C

)
Navigate to a biblical passage (D)
Click a word in the biblical text (

E

)
Notice Bible Word Study generates a report for the underlying Hebrew, Aramaic, or Greek lemma (

F

)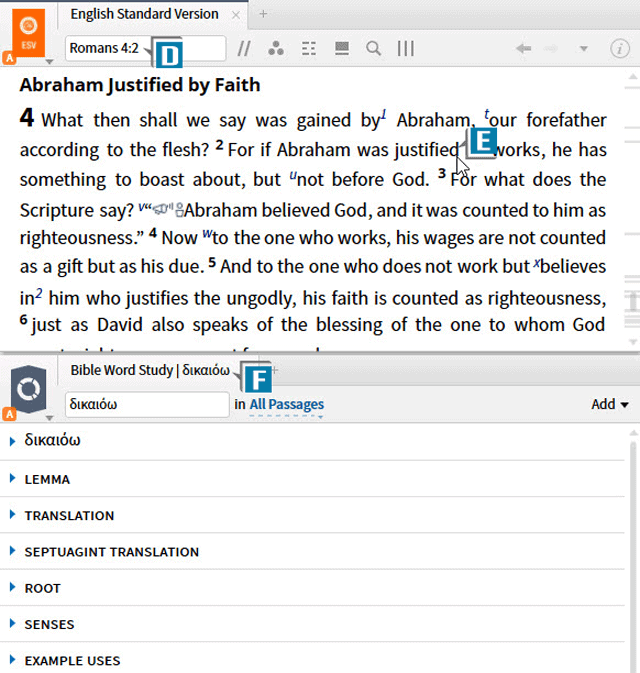 Click a different word in the biblical text (

G

)
Notice Bible Word Study generates a report for that underlying lemma in the same panel (

H

)
We have just linked Bible Word Study to a Bible with the interlinear option. With that new feature, Hebrew or Greek word study begins with a single click on a word! I like to think Faithlife added that feature just for me. ☺
Well, we're just getting started with new Logos 7 features. Trust me, there are many scattered throughout the software and we want to make sure you get up and running with all of them as quickly as possible.
So please check out these training opportunities for Logos 7:
What's New in Logos 7 Training Manual, 38 chapters and 256 pages available in a full color print version and a Logos download—now on Pre-Pub!
ALL NEW Camp Logos 1 and 2 in Phoenix on September 13-15. This will be the grand opening Camp Logos for Logos 7. New attendees and alumni alike will discover new features, instructions, and syllabi.


Morris Proctor is a certified trainer for Logos Bible Software. Morris, who has trained thousands of Logos users at his two-day Camp Logos seminars, provides many training materials.