Your Bible app should be so useful that it sits front and center on your phone's home screen, and you hardly go a day without opening it. With all the options out there, here's why so many people choose to fill that home-screen spot with the Logos app.
The best free Bible app
What makes the Logos Bible app different?
How Logos can benefit you
5 tips for studying the Bible with Logos
How to get started with the free Logos Bible app
The best free Bible app
Several features make the free Logos Bible app the best for those brand-new to Bible reading, seasoned Bible study leaders, pastors, parents, seminary students, and more—practically everyone.
You won't have to cart around piles of reference works or your Bible or wait until you're home at the kitchen table to study the Word. The app allows you to study deeply from wherever you are.
On top of all this, everything you can do on mobile you can also do on the web app or desktop app—and everything syncs across each device. So while you can always study on your phone, you don't have to stop at the small screen.
Plus, the Logos Bible app can grow as you do. When you want to study something new, you can invest in a resource (e.g., a new commentary) from logos.com, and it's automatically added to the library in your app. You can even upgrade to whole packages that combine carefully curated resources with powerful capabilities.
But even if you stick with the free version forever, you'll still be able to explore biblical insights you wouldn't discover simply by reading a few verses a day.
Download the free Logos Bible app to any device to get started right away—or keep reading to learn more.
What makes the Logos Bible app different?
The Logos Bible app is a comprehensive, powerful application for Bible study. It's like having a research library with a personal research assistant in your pocket or on your computer.
There's so much you can do with it to deepen your study of the Bible. However, for this article, we'll answer some basic questions about the free Logos Bible mobile app and explore some of the pretty amazing things you could be doing in just minutes after installing it.
(But if you're itching to download the app now, hop over here.)
Once the app is downloaded, watch this video to learn some of the basics—then explore the rest of this article to see how Logos can help you study the Word.
How you the free Logos Bible app can benefit you
1. The Logos Bible app can help strengthen your faith.
Too often the busyness of life (or, yes, even ministry) gets in the way of peoples' daily walk with the Lord. But a couple of resources within the free Logos Bible app can provide structure to your daily walk and strengthen your faith—with just a tap.
Classic and modern devotional readings
You'll find encouragement waiting for you each day with two free devotionals within the app: Connect the Testaments: A Daily Devotional and Morning and Evening: Daily Readings. They'll provide Scripture, commentary, and action steps to help you in your daily pursuit of God.
Inspiring and beautiful Verse of the Day art
Every day you'll also find new, inspiring Verse of the Day art in your app created by an amazing team of professional designers. You can even make the Verse of the Day art part of your daily devotional by getting it emailed to you every morning.
(If you set up a Bible reading plan, then, after you complete your daily reading, it automatically provides a verse art from those verses!)
2. The Logos Bible app can broaden your study of the Bible.
Everything in the Logos Bible app is digital, so you can search anything in your library fast—the Bible, a specific resource, or your entire library. Logos can walk you through every step of topical Bible study and show you the books and tools to use along the way. It can also help you search for Bible passages or topics and find overviews, links to further reading, definitions, and more. In seconds.
3 easy ways to start studying the Bible with the Logos Bible app
Once you've installed the app and set your preferred Bible (simply tap the main menu icon
, scroll down, and choose Set preferred Bible). Find your preferred Bible version and tap Done. You're all set! Here are three ways you can immediately start using the app.
1. Open a Bible
The first step in Bible study is, of course, to open the Bible. Logos—even our free Logos Basic package—comes with the Lexham English Bible and the King James Version, preinstalled—or you can pick up your favorite Bible for just 9.99.
2. Try a Bible reading plan
The free Logos Bible app is more than just a powerful tool for reading and studying the Bible. With it you can also create reading plans for any non-reference resource or Bible in your library. And the great thing is they are shared across platforms and devices, so you can also access your plans on the desktop app or web app. Logos will then show you an automatic schedule based on your resource selection that you can easily adjust.
That reading plan will be available for you in your Library, regardless of whether you created it on the web, desktop, or mobile versions of Logos.
Here's how to do it:
3. Do a Bible word study
The Bible Word Study Guide provides detailed information about specific words in Scripture and how they are used. It supports English words as well as original language Greek, Hebrew, and Aramaic words. (Please note, however, the Bible Word Study Guide requires an internet connection.)
You can start a Bible word study from the Lookup Menu (you don't have to know Greek or Hebrew to get original language results!). But you can also type in an original language word using the system keyboard.
You can then explore links to lexicons and dictionaries in your Library to better understand the word, see how it's translated in your preferred Bible, and see where else your word appears in the Bible and how it's used in context.
(Easy peasy. Deep Bible word study, no seminary required!)
Learn more about doing Bible word studies in Logos.
5 tips for studying with the Logos Bible app
Here are just a few tips to make your time using the Logos Bible app effective and productive.
1. Start your study from the Passage Guide.
The Passage Guide helps you focus on your passage, with no need to remember what's in your library. Logos will find what you need for you.
Open the main menu on the bottom-left, then under the Tools section tap Passage Guide. Select your passage, and Logos will bring you links to related commentaries in your library, cross references, parallel passages, and more.
2. Read and compare two resources at once.
One immensely helpful feature in the free Logos Bible app is being able to view two resources at the same time. Here's how to use Split Screen on the mobile app:
Tap the tab management icon at the bottom of the screen.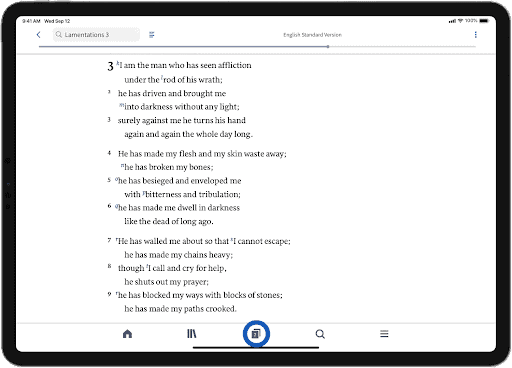 Tap the Split Screen icon

at the top-right of the tab where you'd like the split-screen to display.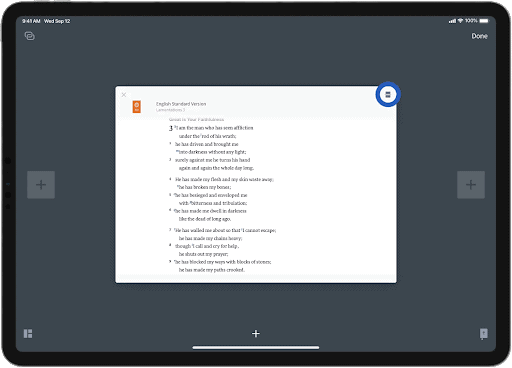 Select a resource to appear in the second pane from your library.
If you like, link your panes together so they scroll automatically by tapping the Link icon in the upper-left—then tap the circle in the lower-right of each resource you want to keep in step. Then tap Done. (You can easily remove a Split Screen too.)

3. Turn your Logos app into a reader's Bible.
The Bible is meant to be read and studied. But a study Bible isn't always a good reading Bible.
A good study Bible includes footnotes, section headings, cross-references, and sometimes study notes. All that markup is useful for Bible study, but it can get in the way of Bible reading.
A "reader's Bible" is different—simple, containing little more than beautifully arranged, flowing text.
Toggling back and forth between studying and reading modes in Logos is easy. With a single click, you can hide all of those helpful annotations, section headings, links, and even chapter and verse numbers. Here's how.
On your iPad or iPhone, tap the Settings menu and look for the "Bible Text Only" section. Tap that to reveal all of your options.
You can turn on or off various annotations, like chapter and verse numbers, footnote indicators, non-Bible text (like section headings), and more. Quickly turn these things on or off to make your app conducive to study or reading—whichever you're doing at that moment.
4. Organize your reading with tabbed browsing.
It's easy to switch between Bibles, commentaries, or even Passage Guide reports with tabbed browsing. Tabbed browsing allows you to link tabs, causing them to scroll in sync—and it's easy to set up:
Tabbed browsing isn't limited to books. Open a report from the Passage Guide, Exegetical Guide, Bible Word Study, or other guide or tool. They'll all live inside a tab, giving you instant access.
Tabs are also a great way to organize your ongoing reading or study. Link your English, Greek, and Hebrew Bibles together so you can quickly reference the original languages every time you open the app. Just swipe between them.
Keep another tab open with your favorite dictionary or encyclopedia. And if you're reading through a specific resource, just keep it open in a tab. Your place is saved automatically. No more reloading a resource or renavigating a previous page.
5. Use the reference scanner.
With the Reference Scanner, looking up a verse is as easy as snapping a photo. Just scan a biblical reference from any digital or paper surface (like a church bulletin), and Logos will automatically open to that passage.
How to get started with the free Logos Bible app
When you open the Bible app after installation (simple instructions are HERE), your resources and updates will download automatically.
(And if you run into any trouble, visit our support center or call our Customer Service department, who will be glad to help: 800-875-6467.)
Then, watch this video to learn your way around the Logos mobile app:
Related articles
Related resources