Who is God? What's he like? Ask a hundred people, and you might just get a hundred answers. So let's find out the truth of who he is—from Scriptures. They're his Word to us, a gift that allows us to get to know him directly.
As you'll see in the verses below, God is loving, merciful, holy, longsuffering, kind, faithful, all-powerful, and eternal. He sent his son for us and offers us salvation and rest in him.
10 key passages
I chose these ten passages because they reveal many of God's attributes. If we memorized and meditated on these ten passages, we'd find our focus shifting from the earthly to the heavenly—from ourselves to our Savior.
As Brother Lawrence wrote in The Practice of the Presence of God, "The world appears very little to a soul that contemplates the greatness of God."1
1. Exodus 34:5–6
The Lord descended in the cloud and stood with him there, and proclaimed the name of the Lord. The Lord passed before him and proclaimed "The Lord, the Lord, a God merciful and gracious, slow to anger, and abounding in steadfast love and faithfulness."
2. Exodus 3:13–15
Then Moses said to God, "If I come to the people of Israel and say to them, 'The God of your fathers has sent me to you,' and they ask me, 'What is his name?' what shall I say to them?" God said to Moses, "I am who I am." And he said, "Say this to the people of Israel: 'I am has sent me to you.'" God also said to Moses, "Say this to the people of Israel: 'The Lord, the God of your fathers, the God of Abraham, the God of Isaac, and the God of Jacob, has sent me to you.' This is my name forever, and thus I am to be remembered throughout all generations."
3. Isaiah 43:10–11
"You are my witnesses," declares the Lord, "and my servant whom I have chosen, that you may know and believe me and understand that I am he. Before me no god was formed, nor shall there be any after me. I, I am the Lord, and besides me there is no savior."
4. Titus 3:4–6
But when the goodness and loving kindness of God our Savior appeared, he saved us, not because of works done by us in righteousness, but according to his own mercy, by the washing of regeneration and renewal of the Holy Spirit, whom he poured out on us richly through Jesus Christ our Savior.
5. 1 John 4:7–10
Beloved, let us love one another, for love is from God, and whoever loves has been born of God and knows God. Anyone who does not love does not know God, because God is love. In this the love of God was made manifest among us, that God sent his only Son into the world, so that we might live through him. In this is love, not that we have loved God but that he loved us and sent his Son to be the propitiation for our sins.
6. John 1:14
And the Word became flesh and dwelt among us, and we have seen his glory, glory as of the only Son from the Father, full of grace and truth.
7. Deuteronomy 7:9
Know therefore that the Lord your God is God, the faithful God who keeps covenant and steadfast love with those who love him and keep his commandments, to a thousand generations.
8. Isaiah 40:28–29
Have you not known? Have you not heard? The Lord is the everlasting God, the Creator of the ends of the earth. He does not faint or grow weary; his understanding is unsearchable. He gives power to the faint, and to him who has no might he increases strength.
9. 1 John 1:5
This is the message we have heard from him and proclaim to you, that God is light, and in him is no darkness at all.
10. 1 John 1:9
If we confess our sins, he is faithful and just to forgive us our sins and to cleanse us from all unrighteousness.
***
Quick note: I found many of these passages in the free Logos Bible study app. I chose the Factbook icon and typed in God, then chose the first option and scrolled down to the Key Passages section.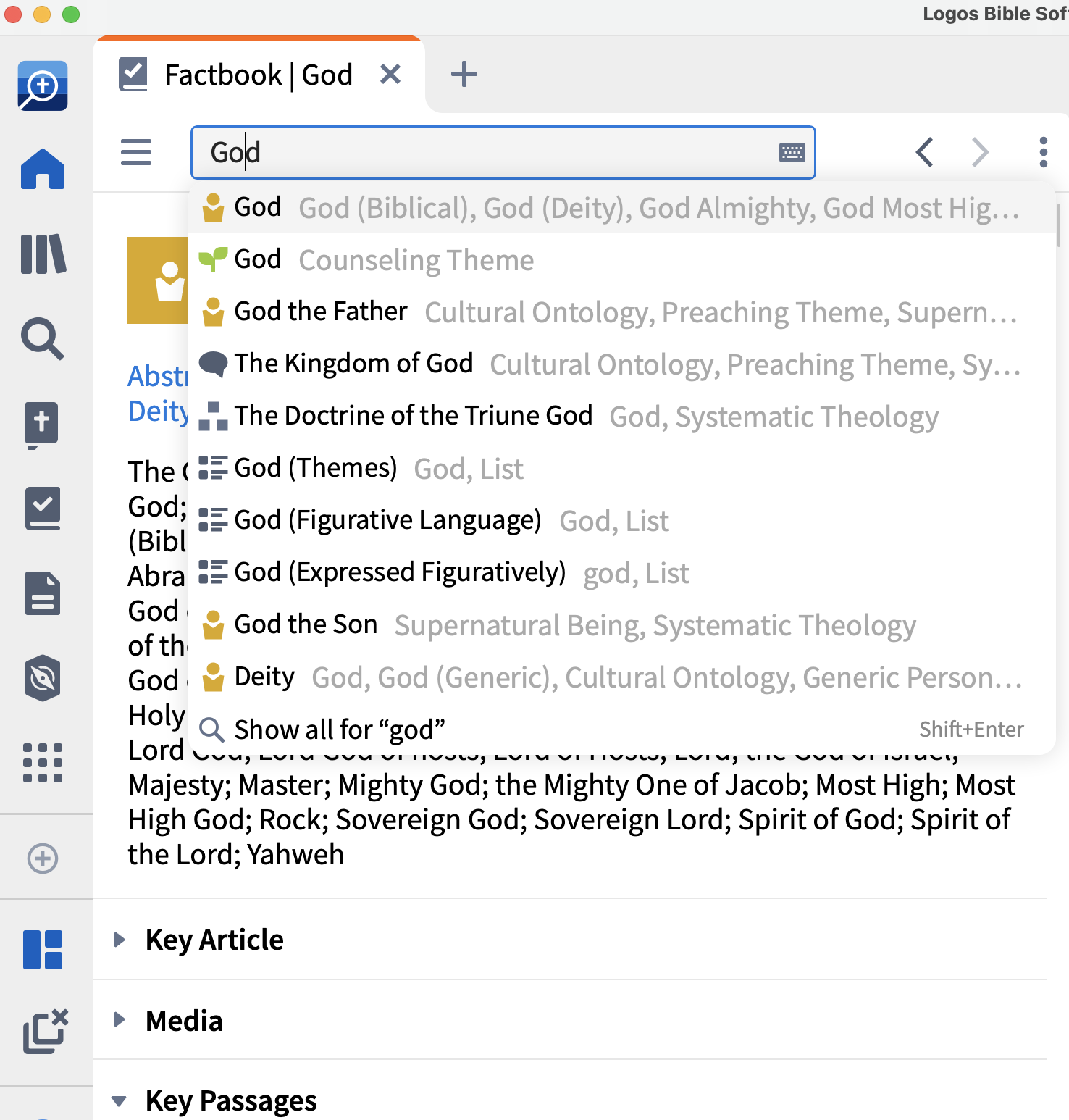 To explore this Factbook entry for yourself, create a free account or sign in to the Logos web app.
Verses from the Old Testament
11. Genesis 1:1
In the beginning, God created the heavens and the earth.
12. Genesis 2:7
Then the Lord God formed the man of dust from the ground and breathed into his nostrils the breath of life, and the man became a living creature.
13. Proverbs 3:19
The Lord by wisdom founded the earth; by understanding he established the heavens.
14. Isaiah 44:24
Thus says the Lord, your Redeemer, who formed you from the womb: "I am the Lord, who made all things, who alone stretched out the heavens, who spread out the earth by myself."
15. Numbers 23:19
God is not man, that he should lie, or a son of man, that he should change his mind. Has he said, and will he not do it? Or has he spoken, and will he not fulfill it?
16. Malachi 3:6a
For I the Lord do not change.
17. Deuteronomy 32:4
The Rock, his work is perfect, for all his ways are justice. A God of faithfulness and without iniquity, just and upright is he.
18. Deuteronomy 4:31
For the Lord your God is a merciful God. He will not leave you or destroy you or forget the covenant with your fathers that he swore to them.
19. Zephaniah 3:17
The Lord your God is in your midst, a mighty one who will save; he will rejoice over you with gladness; he will quiet you by his love; he will exult over you with loud singing.
20. Isaiah 41:10
Fear not, for I am with you; be not dismayed, for I am your God; I will strengthen you, I will help you, I will uphold you with my righteous right hand.
21. Nahum 1:7
The Lord is good, a stronghold in the day of trouble; he knows those who take refuge in him.
22. Psalm 145:9
The Lord is good to all, and his mercy is over all that he has made.

23. Leviticus 19:2b
You shall be holy, for I the Lord your God am holy.
24. Isaiah 57:15
For thus says the One who is high and lifted up, who inhabits eternity, whose name is Holy: "I dwell in the high and holy place, and also with him who is of a contrite and lowly spirit, to revive the spirit of the lowly, and to revive the heart of the contrite."
25. Psalm 50:10
For every beast of the forest is mine, the cattle on a thousand hills. I know all the birds of the hills, and all that moves in the field is mine.
26. Psalm 18:31
For who is God, but the Lord? And who is a rock, except our God?
27. Psalm 11:7
For the Lord is righteous; he loves righteous deeds; the upright shall behold his face.
28. Psalm 136:1
Give thanks to the Lord, for he is good, for his steadfast love endures forever.
29. Psalm 86:15
But you, O Lord, are a God merciful and gracious, slow to anger and abounding in steadfast love and faithfulness.
30. Jeremiah 29:11
For I know the plans I have for you, declares the Lord, plans for welfare and not for evil, to give you a future and a hope.
Related article: Are God's "Plans" for You? What Jeremiah 29:11 Really Means
31. Psalm 83:18
That they may know that you alone, whose name is the Lord, are the Most High over all the earth.
32. Psalm 18:30
This God—his way is perfect; the word of the Lord proves true; he is a shield for all those who take refuge in him.
33. Deuteronomy 33:27a
The eternal God is your dwelling place, and underneath are the everlasting arms.
Verses from the New Testament
34. Revelation 22:13
I am the Alpha and the Omega, the first and the last, the beginning and the end.
35. John 1:1
In the beginning was the Word, and the Word was with God, and the Word was God.
36. Colossians 1:16
For by him all things were created, in heaven and on earth, visible and invisible, whether thrones or dominions or rulers or authorities—all things were created through him and for him.
37. Romans 5:8
But God shows his love for us in that while we were still sinners, God died for us.
38. John 3:16–17
For God so loved the world, that he gave his only Son, that whoever believes in him should not perish but have eternal life. For God did not send his Son into the world to condemn the world, but in order that the world might be saved through him.
39. Ephesians 4:6
One God and Father of all, who is over all and through all and in all.
40. Ephesians 2:4–6
But God, being rich in mercy, because of the great love with which he loved us, even when we were dead in our trespasses, made us alive together with Christ—by grace you have been saved—and raised us up with him and seated us with him in the heavenly places in Christ Jesus.
41. James 1:17
Every good gift and every perfect gift is from above, coming down from the Father of lights, with whom there is no variation or shadow due to change.
42. 2 Peter 3:9
The Lord is not slow to fulfill his promise as some count slowness, but is patient toward you, not wishing that any should perish, but that all should reach repentance.
43. John 10:10–11
The thief comes only to steal and kill and destroy. I came that they may have life and have it abundantly. I am the good shepherd. The good shepherd lays down his life for the sheep.
44. Hebrews 1:3
He [Jesus] is the radiance of the glory of God and the exact imprint of his nature, and he upholds the universe by the word of his power. After making purification for sins, he sat down at the right hand of the Majesty on high.
45. John 4:24
God is spirit, and those who worship him must worship in spirit and truth.
46. 1 Corinthians 1:9
God is faithful, by whom you were called into the fellowship of his Son, Jesus Christ our Lord.
47. Matthew 19:26
But Jesus looked at them and said, "With man this is impossible, but with God all things are possible."

Books for further study of who God is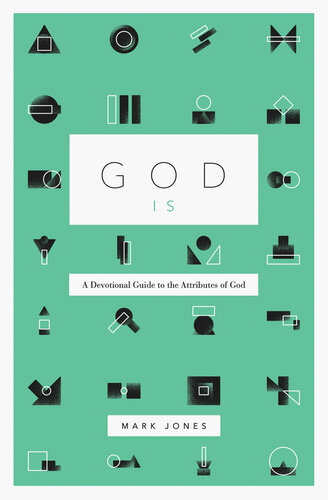 God Is: A Devotional Guide to the Attributes of God
Add to cart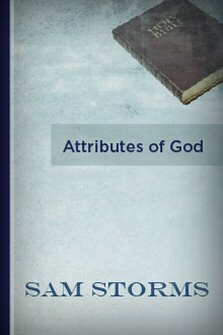 Attributes of God
Add to cart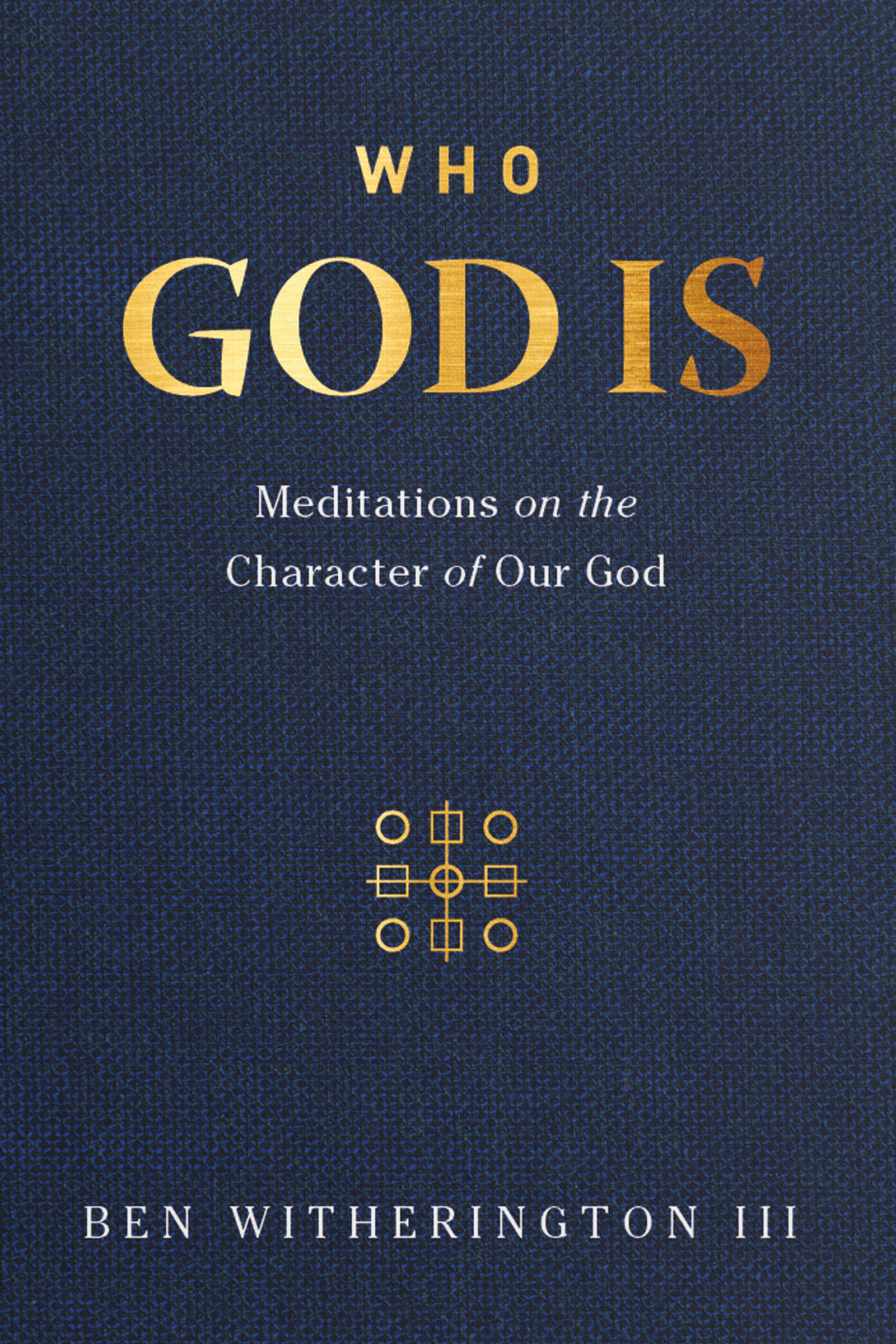 Who God Is: Meditations on the Character of Our God
Add to cart
Related articles
Who Is Jesus? Answering Life's Most Important Question
The Trinity: 47 Bible Verses & Quotes about the Triune God
The Trinity 101: What Every Christian Should Know
Brother Lawrence in Ron Rhodes, 1001 Unforgettable Quotes about God, Faith, & the Bible (Eugene, OR: Harvest House Publishers, 2011), no. 389.