Lexham Press has 16 new books shipping before the calendar turns over to 2015! All of these books are on currently on Pre-Pub—by ordering now, you could get up to 40% off the regular price.
Hurry—all of these books will ship before the end of the year!
Spurgeon Commentary Collection
We've already shown you what makes these commentaries different—they're more than just a collection of Spurgeon's writings and spoken word. They're directly connected to your Logos Bible Software tools that you use on a regular basis, filled with the inspiring wisdom of one of the most influential preachers of the modern era.
The revolutionary Spurgeon Commentary Collection ships December 30. Get it for 40% off on Pre-Pub.
Vos' Reformed Dogmatics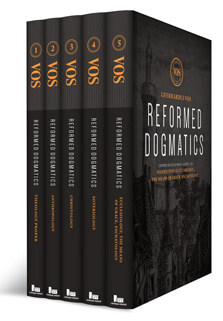 For the first time ever, Geerhardus Vos' Reformed Dogmatics will be available in English. The first two volumes have been completed and the third one is almost ready. We're shipping all three of these volumes—Theology Proper, Anthropology, and Christology—now so you can benefit from this groundbreaking translation project.
The final two volumes are scheduled to be finished by July, 2016. If you order now, you'll receive the first three volumes when they ship December 29 and the other two volumes automatically as they're finished.
You can get this important piece of Reformed theology for 20% off on Pre-Pub.
Transformative Word series
The first two volumes of the Transformative Word series are finished and ready to ship.
The first volume, When You Want to Yell at God, helps us see the book of Job with fresh eyes. Looking at Job as the height of biblical poetry, Craig Bartholomew helps us see just how beautiful this man's struggle with God really is.
The second volume, Cutting Ties with Darkness, examines the painful relationship between the Apostle Paul and the church in Corinth. How can we deal with the scars we've picked up from our own relationships in light of Jesus' example?
The Transformative Word series is written by a global cast of church leaders to help you reflect on how the Bible can transform your life. A conversational tone and thought-provoking questions guide you through each biblical book.
These two volumes will ship December 30. Get them both for 20% off on Pre-Pub.
Stand-alone books
Lexham Press has two additional stand-alone books that will ship before the end of the year, The Lion of Princeton: B.B. Warfield as Apologist and Theologian and Confronted by Grace: Meditations of a Theologian.
In the Lion of Princeton, Kim Riddlebarger examines B.B. Warfield's theological, apologetical, and polemical writings, bringing clarity to the confusion that surrounds one of the most significant American theologians. Riddlebarger provides a biographical overview of Warfield's life and traces the growing appreciation for Warfield's thought by contemporary Reformed thinkers.
Confronted by Grace is a collection of beautifully and thoughtfully written sermons from John Webster, a leading contemporary theologian. These reflections, born from years of theological and biblical study, demonstrate the complexity of the realities we face in the Christian life and the depth of the grace of God. Thoroughly accessible, Webster points us toward Christ so that we may grow in our understanding of the truth of the gospel.
These two books ship on December 31. Get them both for 20% off on Pre-Pub.