We were treated to some excellent salsa from 11 competitors this past Friday. It was tough to vote for just three salsas from all the tasty picos de gallo, tomato salsas, and an avocado concoction…but that's what some would call a "high class problem."
The results were announced shortly after the event and one of the Logos bloggers placed…congrats, Eli!
First Place: Guillermo Powell's Powe – R – Salsa
Second Place: Kim Vail's Salsa con Aquacate
Third Place: Eli Evans' Hello Pain-o
Some photos from the event (click for a larger version):
Kim Vail, salsa 2006 coordinator, prepares the salsa buffet.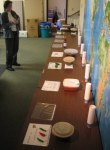 I entered, missed 3rd by 2 points, but am proud of my sign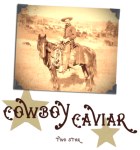 Eli (speed eating?)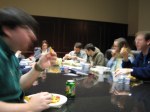 Jahan, Logos book designer, narrows the field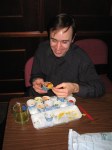 The happy remains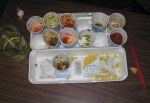 What…Leftovers?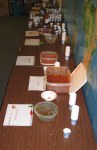 And the winner is…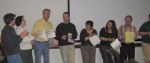 Followed by this shocking revelation from the winner, Guillermo Powell
Windows Media (416KB)
The winning recipe:
Powe – R – Salsa
from GuillermoPowell ("actually should be Elsa Powell, my wife")
1 – Pace Picante sauce (4 lbs) can be purchased at Walmart
1 – cucumber, minced
1 – bundle of fresh cilantro
1 – lemon (squizzed fresh by Guillermo)
1 – onion, medium size, minced
Add salt and tabasco to taste.