Logos Mobile Ed brings the professors, the library, the visual demonstrations of software features, and the online classroom community directly to you—on your desktop, laptop, or mobile device. It's education where you are.
Introducing Dr. Carl Sanders
The Logos Bible and Doctrine Foundations bundle includes four Introducing Bible Doctrine courses (TH101–104), and all four share a professor: Dr. Carl Sanders.
Dr. Sanders has taught at the college and seminary level since 1999 at several schools: Bethel University (St. Paul, MN), Northwestern College (St. Paul), and Washington Bible College (Washington, DC), where he also served as chair of the Bible and Theology Department (2003–12). He's an associate professor of theology at Lancaster Bible College's Capital Bible Seminary (Lancaster, PA). Dr. Sanders earned his bachelor's degree from Pillsbury Baptist Bible College (Owatonna, MN), and his MDiv from Central Baptist Theological Seminary in Minneapolis. He also holds both a Master of Sacred Theology and a PhD in theological studies from Dallas Theological Seminary.
Sanders is well-liked by his students for his down-to-earth presentation of Bible doctrine—students quickly learn that he loves talking about theology and has a quick wit. Among his strengths as a lecturer are his ability to distill the information down to essential elements and his good-natured, fair way of explaining differences in theological positions. Sanders has a keen interest in urban ministry and has served for many years in racially diverse urban congregations. His interest in local church experience helps him practice theology in ways that reflect the diversity present in the body of Christ. He strives to make theology interesting and practical.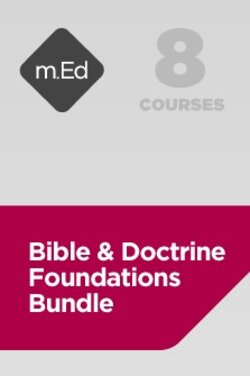 Start learning from Dr. Sanders and other leading scholars. Take the next step—or get started—on your journey to greater biblical and theological knowledge today with the Bible and Doctrine Foundations bundle.
Logos Mobile Education—it's where you are.
Was This Article Helpful?