Faithlife Live is our live, cross-denominational show that features in-depth conversations with key ministry leaders on deep, theological topics.
In this week's Faithlife Live, join Sam Storms for a discussion on spiritual gifts. He'll explore what supernatural gifts are, where they're found in Scripture, and whether God still works through them.
Learn more from Sam Storms
The Bible teaches that we are to be filled with God's Spirit and that God's presence and grace is manifested among his people as they serve, love, and minister to one another.
Yet some of the gifts God offers his people aren't commonly seen in many churches today—like prophecy, healing, and tongues. Many Christians are unsure how to cultivate an atmosphere where God's Spirit can work while remaining committed to the foundational truth of God's Word.
In Practicing the Power, pastor and author Sam Storms offers practical steps to understanding and exercising spiritual gifts in a way that remains grounded in the Word and centered in the gospel.
Get Practicing the Power today.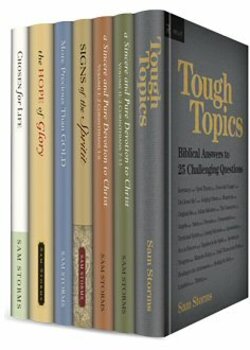 The Sam Storms Collection includes devotional and meditative guides for studying several books of the Bible, including Corinthians, Psalms, and Colossians. Celebrated author Sam Storms urges readers not only to enter into the Bible but to take the next step toward knowing God and his Word.
Dive into provocative questions of Christian theology (and their biblical answers) in Tough Topics, or explore the process of Christian conversion in Signs of the Spirit, a companion guide to Jonathan Edwards' classic, Religious Affections.
Get The Sam Storms Collection now.