Only a profoundly influential work could warrant such high praise. Some view Geerhardus Vos' Reformed Dogmatics as the foundation for modern Reformed biblical theology. For the first time ever, Reformed Dogmatics is available in English—and the first three volumes are out now!
Vos' strong grounding in biblical scholarship and biblical theology makes his Reformed Dogmatics unique. A fresh biblical perspective is brought to Vos' systematic theology, giving this work a broad appeal to academics, students, pastors, and those with a great interest in biblical theology.
An example of this wide interest can be found in this photo: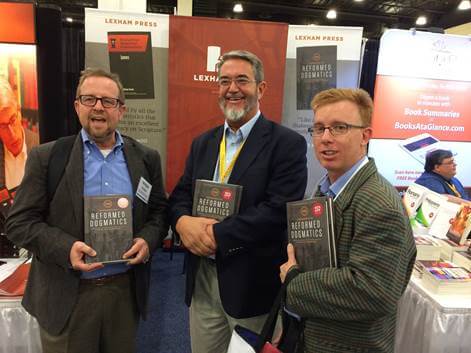 At the Annual Meeting of the Evangelical Theological Society in San Diego last November, three prominent modern theologians came together and celebrated the printing of volume 1 of Reformed Dogmatics (from left to right, Michael Horton, Scott Hahn, and Michael Bird).
What people are saying
On the Lexham Press blog, we rounded up some of the buzz surrounding the release of Reformed Dogmatics in English. Here's some of the praise Vos' Reformed Dogmatics has received:
Like books, people can become 'classics.' Great in their day, but richer and more fulfilling with time. Not yet a classic, Vos' never-before-published Reformed Dogmatics is more like a lost Shakespeare play recently discovered. There seems to have been a flurry in recent years of systematic theologians writing with an eye for biblical theology. With this series we now have a biblical theologian writing a systematic theology. Thanks to Lexham Press for giving us such a long-awaited but impressive access to this much-discussed gem.

—Michael Horton, professor of theology and apologetics, Westminster Seminary California
The state of access to deep, historic, orthodox Reformed theology has progressed exponentially in the last decade or so. Resources previously inaccessible to many have now become available to a vastly wider audience. In my view, the capstone of this accessibility is in this masterful work of Geerhardus Vos. Vos has the singularly unique accumen and ability to summarize and state concisely some of the deepest truths of Reformed theology. These volumes will now be my first recommendation to anyone who wants to understand the riches of the Bibles' teaching in a compressed and clear way. Thanks to Richard B. Gaffin Jr., to the translators, and to Lexham Press for putting this work into our hands.

—K. Scott Oliphint, professor of apologetics and systematic theology, Westminster Seminary California
Get it today!
For the first time ever, you can now access Reformed Dogmatics in English, translated and edited by biblical theologian and Vos expert Richard B. Gaffin Jr. You'll gain valuable insight into the formative thought of this influential theologian.
The first three volumes are available now, with the final two volumes forthcoming over the next two years.
Don't miss this important piece of biblical theology—get it today!
Was This Article Helpful?