Recently, the Andrew Murray Collection went up on Community Pricing. Not only does it contain 11 monthly and 2 yearly devotionals—it also includes an additional 25 books packed with sermons, essays, addresses, and more. To celebrate this awesome collection, I've put together 10 of my favorite Andrew Murray quotes:
1. "A dead Christ I must do everything for; a living Christ does everything for me."
2. "Christ is the humility of God embodied in human nature; the Eternal Love humbling itself, clothing itself in the garb of meekness and gentleness, to win and serve and save us."
3. "Faith expects from God what is beyond all expectation."
4. "Our love to God is measured by our everyday fellowship with others and the love it displays."
5. "Men ought to seek with their whole hearts to be filled with the Spirit of God. Without being filled with the Spirit, it is utterly impossible that an individual Christian or a church can ever live or work as God desires."
6. "God has no more precious gift to a church or an age than a man who lives as an embodiment of his will, and inspires those around him with the faith of what grace can do."
7. "Prayer is not monologue, but dialogue. God's voice in response to mine is its most essential part."
8. "Let it be your business every day, in the secrecy of the inner chamber, to meet the holy God. You will be repaid for the trouble it may cost you. The reward will be sure and rich."
9. "Pride must die in you, or nothing of heaven can live in you."
10. "We must begin to believe that God, in the mystery of prayer, has entrusted us with a force that can move the Heavenly world, and can bring its power down to earth."
It was hard to choose those 10—the Andrew Murray Collection is packed with over 7,000 pages of spiritual nuggets to ponder. Wake up and spend 10 minutes with one of Andrew Murray's monthly devotionals side-by-side with your favorite Bible in Logos, and you could change the way you approach your entire day—they're that good.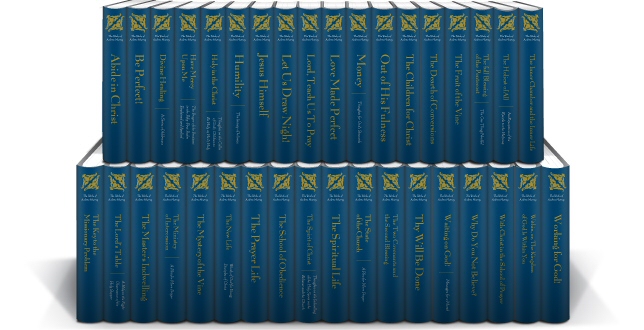 And since it's on Community Pricing, the more people that get in on the bidding action, the lower the price for this collection will go. So take one of these quotes and tweet it (with a link). Or share one of Murray's insights on your Facebook page. Add it to your Pinterest board or your blog or your church website—get the word out that Logos Bible Software has Andrew Murray's works, and the price is right (and going to get even better). And make sure to bid now!
Did we miss your favorite Andrew Murray quote? Leave us a comment and tell us what it is.