Andrew Murray Collection (36 vols.)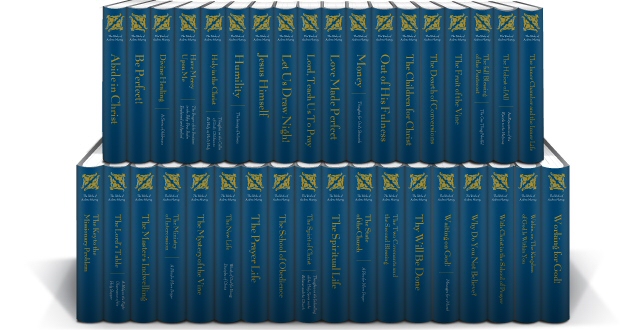 Overview
The Andrew Murray Collection contains 36 volumes from this beloved preacher, missionary, and teacher. Born into a family of missionaries in South Africa, Murray would continue in his father's footsteps by returning to South Africa and pastoring numerous churches, eventually starting an international missionary organization. A prolific writer, he achieved worldwide influence in print—many of Murray's works have become devotional classics and remained immensely popular for over a century!
The Andrew Murray Collection contains eleven monthly and two yearly devotionals covering prayer and prayer-life, the will of God, the 51st Psalm, parental duty, the Parable of the Vine, healthy Christian living, and more. These devotionals serve as guidebooks for strengthening your knowledge and deepening your faith, and they're perfect for personal or small-group study.
The Andrew Murray Collection also contains The Holiest of All, Murray's complete exposition of the book of Hebrews; Divine Healing, Murray's testimony of his faith in divine healing; Holy in Christ, his in-depth study of the word "holiness"; and numerous sermons, essays, addresses, and more. In the Logos edition, all Scripture passages are tagged and appear on mouse-over. For scholarly work or personal Bible study, this makes these texts more powerful and easier to access than ever before. With the advanced search features of Logos Bible Software, you can perform powerful searches by topic or Scripture reference—finding, for example, every mention of "holiness" or "John 15:1–2."
Key Features
Compiles over 7,000 pages of Andrew Murray's works
Contains eleven monthly and two yearly devotionals
Includes sermons, essays, addresses, and more
Product Details
Title: Andrew Murray Collection
Volumes: 36
Pages: 6,712
About Andrew Murray
Andrew Murray (1828–1917) was born in Graaff Reinet, South Africa, to Dutch missionary parents. Educated at King's College, Aberdeen, he then studied theology at the University of Utrecht. Andrew and his older brother John were ordained in the Dutch Reformed Church in 1848. Murray pastored South African churches in Bloemfontein, Worcester, Cape Town, and Wellington. A champion of missionary work, he founded the South African General Mission in 1889. That ministry continued to grow, and today it is part of the SIM (Serving in Mission) organization.
A prolific author and lecturer, Murray authored over 200 books during his lifetime, and he was invited to speak at churches and conferences all over the world. Married for over 60 years and the father of eight children, Murray passed away in January 1917.