November 10, 2011 marks 528 years since the birth of Martin Luther, an iconic figure in the Protestant Reformation. You can add the entire 55-volume collection of Luther's works to your library at a special introductory price. But act soon—this introductory price ends on November 14.
Regarding Luther
Many people know that Luther was a catalyst for the Protestant Reformation and how he nailed his 95 Theses to the door of the Castle Church of Wittenberg. Here are some facts you might not know:
The Legend of Luther's ConversionThere are many legends surrounding how Luther went from being a promising law student to a monk in 1502. The most popular story involves being caught in a terrible thunderstorm and how, after many close calls with lightning strikes, Luther vowed to become a monk in exchange for his life.

Another story has Luther falling on a dagger, severing an artery, and making his vow of conversion under the fear of death. There is even a story about how Luther was sent to a monastery after killing a fellow student in a duel.

We may never know the truth, but we do know that his decision to leave the practice of law and embrace religion was a drastic and swift change in direction.

The Pivotal Point in Luther's LifeLuther did not consider the nailing of his theses to the Castle Church door the most critical event in his life. In his Table Talks, Luther points to the illumination he felt when understanding Romans 1:17: "For in it the righteousness of God is revealed from faith for faith, as it is written, "The righteous shall live by faith."

Luther often speaks of this—his "Tower Experience"—as his true moment of conversion.

Luther's Actual Words at the Imperial Diet of WormsLuther was invited to an Imperial Diet (general assembly of the Imperial Estates) in Worms, Germany. The intention was to encourage Luther to repent and recant of his heresies. Luther, refusing to recant, is often credited as saying, "Here I stand. I cannot do otherwise."

Luther's actual statement to the assembly was much more articulate:

"Unless I am convinced by Scripture and plain reason—I do not accept the authority of the popes and councils, for they have contradicted each other—my conscience is captive to the Word of God. I cannot and I will not recant anything for to go against conscience is neither right nor safe. God help me. Amen."
Purchase Luther's Works today!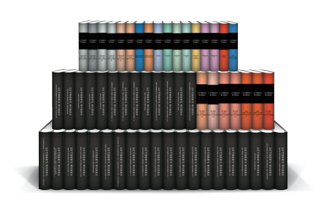 Luther is one of the most significant figures in Western history, and now you can add this massive 55-volume collection to your Logos resources. That's more than 22,000 pages of exposition and commentary on Scripture, theological writings, and other materials readily accessible with your other resources—perfect for personal or academic study.
But don't wait, this special introductory price ends on November 14, 2011. Order yours today!