Luther's Works (55 vols.)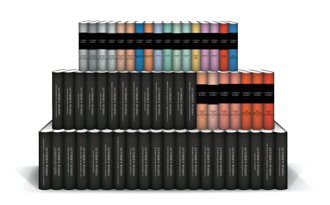 Overview
No other person is more identified with the Reformation than Martin Luther. Luther's work, including his Ninety-Five Theses—which he nailed to the door of the Wittenberg Church in 1517—is credited with helping to spark the Protestant Reformation and laying the foundation for the Lutheran church. Now, Logos Bible Software has partnered with Fortress Press and Concordia Publishing House to offer the entire 55-volume set of Luther's Works for download.
This massive collection contains Luther's exposition and commentary on Scripture as well as his sermons, theological writings, and other materials. The final volume in the set contains an index of quotations, proper names, and topics. It's the largest collection of Luther's works available anywhere—and now you can download the entire set for use in Logos Bible Software.
This decades-long project contains the standard scholarly set of Luther's Works, an essential collection for pastors, theologians, and historians in the Lutheran tradition. And as a special bonus, you'll also get the Tappert edition of The Book of Concord.
Key Features
Fifty-five volumes of Luther's translated work
Includes descriptions, lectures, sermons, and other texts from Luther
Ideal for historians, preachers, and theological seminary students
Detailed index with topics, names, and quotations
Praise for the Print Edition
. . . Pastors, scholars and interested laypeople can acquire a first-rate collection at a remarkably affordable price.
—Mark U. Edwards Jr., Christian Century, January 16-23, 2002
Every Lutheran seminarian and pastor needs this collection. . . I am in bliss.
—Bob Schaefer, M.Div. student, Luther Seminary, St. Paul, Minnesota
Greatly inspired by the depths of Luther's insight. . . As Lutherans we have an asset here and we should never forget that.
—Dale L. Johnson, Salem Lutheran Church, Rockford, Illinois
Product Details
Individual Titles
About Martin Luther
The reformer Martin Luther stands as one of the most significant figures in Western history. His distinction as the father of the Protestant Reformation is augmented by his innovative use of new technology (the printing press), his translation of the Christian Bible into the vernacular, and his impact upon European society. Born in 1483 to middle-class parents in Saxony, eastern Germany, he became an Augustinian monk, a priest, a professor of biblical literature, a reformer, a husband and father. He died in 1546 after having witnessed the birth of a renewal movement that would result in a profound shift in faith, politics, and society. He has been both praised and vilified for what he preached and wrote. His thought continues to influence all Christians and to animate the movement that bears his name.
About the Editors
Jaroslav Pelikan (1923-2006) served as a Sterling professor of history emeritus at Yale University. He authored more than 30 books, including The Christian Tradition: A History of the Development of Doctrine, widely acknowledged as the foremost history of its kind, and, more recently, Mary Through the Centuries. During his life he received honorary degrees from universities all over the world, as well as medals and awards from many scholarly societies and institutions, including the Jefferson Award of the National Endowment for the Humanities, the highest honor conferred by the U.S. government on a scholar in the humanities. He was also immediate past president of the American Academy of Arts and Sciences.
Helmut T. Lehmann, internationally known historian, teacher, and Martin Luther scholar, earned his ThD from Friedrich-Alexander University in Erlangen, Germany. He was a Schieren Professor Emeritus of History of Christianity at The Lutheran Theological Seminary in Philadelphia.
More details about these resources
Show More