The road hadn't been groomed yet that spring. I steered our little hatchback around most of the potholes, but nobody misses them all. A landslide washed out one of the of the sharper s-curves, but it wasn't fresh and the sun was out, so the debris was starting to crust over. We managed to crawl over it. A huge spruce tree cut the road about a quarter mile from the trailhead, so we walked in from there.
I set my phone to airplane mode as we hiked away from the car.
My wife and I spent two days in the backcountry that weekend, enjoying some of the best mountain vistas anywhere in North America. We like to do that now and then. To escape—to walk deep into the woods, beyond the reach of any Wi-Fi network or cellular service and live outside our routine for a while.
Whenever we venture outside our phone carrier's coverage map we have to leave things behind—but we never have to leave behind our theological library. Surprised? You shouldn't be. The Logos mobile app lets you to carry all your books in your pocket.
Imagine trying to do that without the Logos app. My favorite single-volume commentary, The New Bible Commentary, weighs in at a hulking four pounds and 1,317 pages. That's heavier than my tent. No way I'm carrying it with me on a backpacking trip or to the beach. If I owned a print edition of that book, it probably wouldn't ever leave my office.
But I did have it with me on that trip because I downloaded it and the ESV to my phone, so I could read Psalm 128:1 and it's blessing for those who fear the Lord. I could read about the mountain of the house of the Lord in Isaiah 2:2 while we camped in a snowy meadow between Mt. Baker and the Twin Sisters.
Download your favorite books to your device in the Logos app, so you can enjoy them on your next trip outside your phone carrier's coverage map.
If you're not sure how to download your Logos resources to your mobile device, here's a quick tutorial.
Fire up your app
Swipe from the left side of the screen to reveal the app menu. There you'll find a list of books you have access to in your app.
Tap the information icon for any book to learn more about it. When you do, you'll find a download button.
Tap the download button.
Once a book is downloaded, its information icon will be solid blue like you see below for my copies of the ESV and NBC.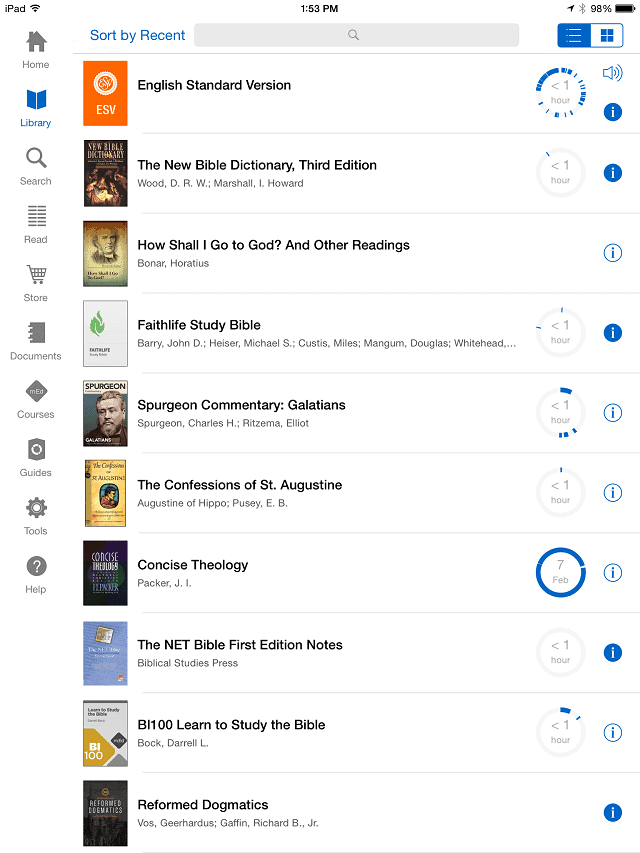 Next weekend, my wife and I are taking another trip into the mountains. Without the Logos app, I'd have to put my Galatians study on hold. With the Logos app, I carry all my books without adding a single ounce more weight. 

Download your favorite books to your mobile device with the Logos app, and you won't ever have to leave them behind.
Sign up below for app tips, free add-ons, and exclusive offers delivered right to your inbox.
Was This Article Helpful?