The Great Commission (Matt 28:18-20) has driven the Christian mission since the birth of the church. We are called to be partners with God in taking the Kingdom to the ends of the earth.  But we are just individuals working within a larger whole, each of us a tiny speck in the midst of the great undertaking God is directing. Much of this work is done upon the faith that God is actually directing our work, unseen from our physical world.
To fully understand our place in God's kingdom, we must fully understand this unseen, supernatural world. Dr. Michael Heiser helps us do exactly that in his new book Supernatural—now available in all formats! Challenge your spiritual reality with Supernatural.
A solid foundation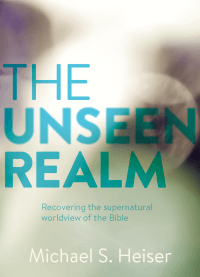 Drawing from over two decades of study, Dr. Heiser wrote Supernatural to help Christians explore what scholars Bible scholars know about the unseen world. Based upon the research he completed for The Unseen Realm, Supernatural is written to be more accessible with a focus on practical application of the insights found in his more academic title. Once we begin to reveal the supernatural worldview of the biblical writers, we can begin to think about how that worldview affects our lives today.
Our identity in Christ and our purpose for the Kingdom gain greater clarity with a fuller picture of the supernatural world. Dr. Heiser puts it this way: "Everything we do and say matters, though we may never know why or how. But our job isn't to see—it's to do. Walking by faith isn't passive—it's purposeful." By viewing the Bible from an ancient perspective, our modern spiritual reality changes.
Sharing with others
Once you've wrapped your mind around the concepts and ideas contained within Supernatural, sharing that understanding with others is the next step. Exclusive to the Logos edition of Supernatural is an in-depth study guide written by Ronn Johnson. This study guide was written specifically to help you unpack how a supernatural worldview affects your life.
With discussion and reflection questions guiding you through the book, you'll be able to enrich your personal study or lead a group study. In fact, if you've already read The Unseen Realm, Supernatural and it's study guide are the perfect vehicle to share the insights you've gained with your church communities, Bible studies, and friends and family.
***
Find out why a better understanding of the supernatural worldview of the biblical writers helps you understand your place in God's kingdom today—pick up Supernatural now!