Supernatural: What the Bible Teaches about the Unseen World—And Why It Matters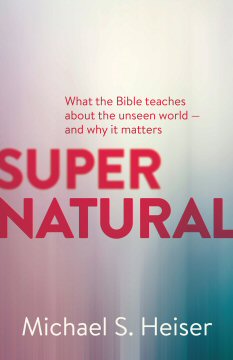 Supernatural: What the Bible Teaches about the Unseen World—And Why It Matters
•
Runs on Windows, Mac and mobile.
Uncover the Supernatural in the Bible
Who were the sons of God? Who were the Nephilim? Where do angels fit into the supernatural hierarchy? Why did God find it necessary to have the Israelites destroy the populations of entire cities man, woman, and child? What relation does Jesus bear to the rest of the supernatural world?
In Supernatural, Michael Heiser, tackles these questions and many more, based on his fifteen years of research into what the Bible really says about the unseen world. Heiser shines a light on the supernatural world—not a new light, but rather the same light the original, ancient readers and writers of Scripture would have seen it in.
You may never read the Bible the same way again.
Praise for Michael Heiser
Michael Heiser shows how important it is to understand this world and appreciate how its contribution helps to make sense of Scripture.
—Darrell L. Bock, Executive Director for Cultural Engagement, Howard G. Hendricks Center for Christian Leadership and Cultural Engagement, Senior Research Professor of New Testament Studies
Contents
Believing the Bible
The Unseen Realm: God and the Gods
Once and Future Kings
Divine Rebellions
Cosmic Geography
The Word, the Name, and the Angel
Rules of Engagement
Sacred Space
Holy War
Hidden in Plain Sight
Supernatural Intent
The Cloud Rider
The Great Reversal
Not of This World
Partakers of the Divine Nature
Ruling over Angels
Included with the Logos Edition
Take your study even further with Supernatural: A Study Guide by Ronn Johnson. This study guide is perfect for personal devotion or small group study. Reflection questions guide you through the book as you explore the supernatural worldview of the biblical writers. Your progress will sync across all Logos platforms—desktop, tablet and mobile apps—so you can take your notes with you.
Supernatural: A Study Guide is included with the Logos edition of this resource. The study guide is not included with the print edition of Supernatural.
Product Details
Title: Supernatural: What the Bible Teaches about the Unseen World—And Why It Matters
Author: Michael S. Heiser
Publisher: Lexham Press
Publication Date: 2015
Pages: 176
Format: Logos Digital, Paperback
Trim Size: 5.5x8.5
ISBN: 9781577995586
About Michael S. Heiser
Michael S. Heiser is the academic editor for Logos Bible Software, Bible Study Magazine, and Faithlife Study Bible. He is the coeditor of Old Testament Greek Pseudepigrapha with Morphology and Semitic Inscriptions: Analyzed Texts and English Translations.. He earned his PhD in Hebrew Bible and Semitic languages and holds and MA in ancient history and Hebrew studies. In addition, he was named the 2007 Pacific Northwest Regional Scholar by the Society of Biblical Literature.
Sample Pages from Supernatural
More details about these resources