A while back someone sent me a question about how to use the Anchor Yale Bible Dictionary to the fullest.
Any good ideas on where I can go to learn how to most effectively use this dictionary in my study process? Is there a way to integrate it into the Bible Word Study selection?

Any help would be appreciated!
I sent this user some tips, but thought this might be worthy of a blog post—especially since it's back-to-school time and we are currently offering a 30% discount on this wonderful resource. Just use coupon code YALE to save more than $60!
Setting Up Your Keylink Preferences
First, you should set up your keylink preferences. Go to Tools > Options > Keylinks and select "English" from the "Data Type" drop-down menu. Then find the Anchor Yale Bible Dictionary in the list of resources in the bottom window and "Promote" it to the top. Prioritize it wherever you'd like. If you want it to be the first resource that Libronix looks to, move it to the top of your list.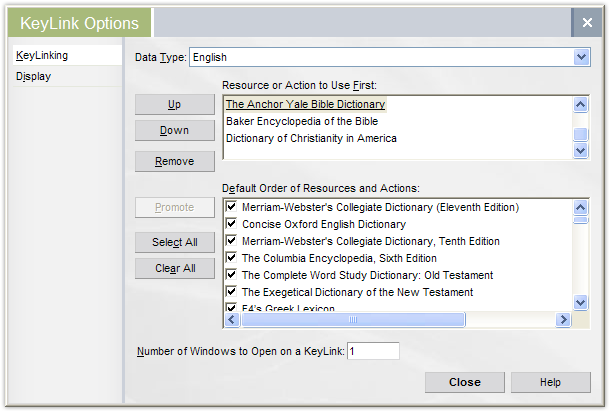 This allows you to double-click on any English word and have quick access to the AYBD entry, if there is one. (You'll need to set AYBD as your first keylink destination or set your keylink preferences to open several keylink destinations at a time.)
This also allows you to see AYBD entries in the Bible Word Study report.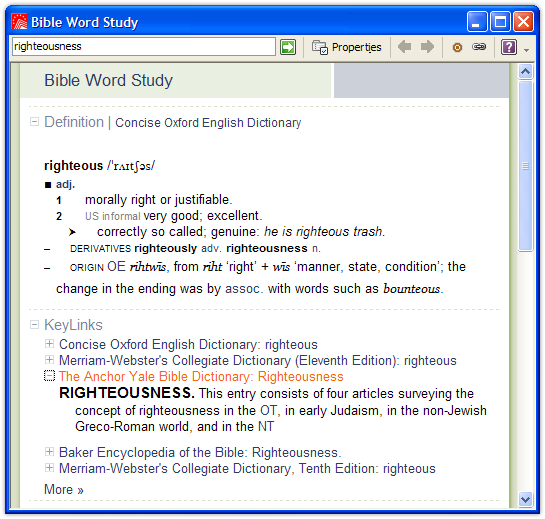 By the way, if you don't have the updated Anchor Yale Bible Dictionary resource (formerly Anchor Bible Dictionary), you can get it by running the resource auto-update script or by downloading it directly from our FTP server.
Creating a Parallel Resource Association
You may also want to set up a custom parallel resource association of all of your Bible dictionaries and encyclopedias. This allows you to jump from the entry on "Jericho," for example, in the AYBD to the one in other Bible dictionary like ISBE or the New Bible Dictionary by simply hitting the right arrow key. Make sure the active index is set to "Topics."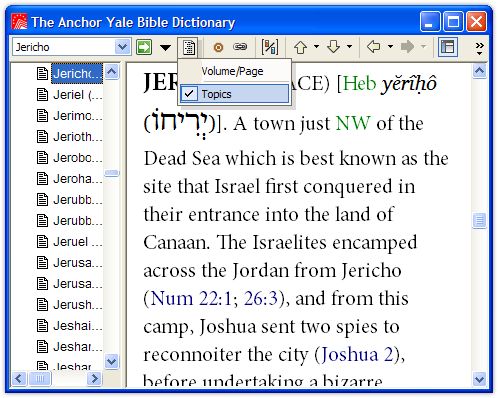 By creating a custom parallel resource association, you get to control which resources Libronix looks to and you get to put them in whatever order you'd like.
Watch the Video!
For more tips, see our training video on Using the Anchor Yale Bible Dictionary in Logos Bible Software. It's embedded below. If you're reading this in your email inbox or your RSS reader and don't see the video, visit the blog post to watch it.
To add this resource to your Libronix digital library, visit the product page. And make sure to use coupon code YALE to save 30%!